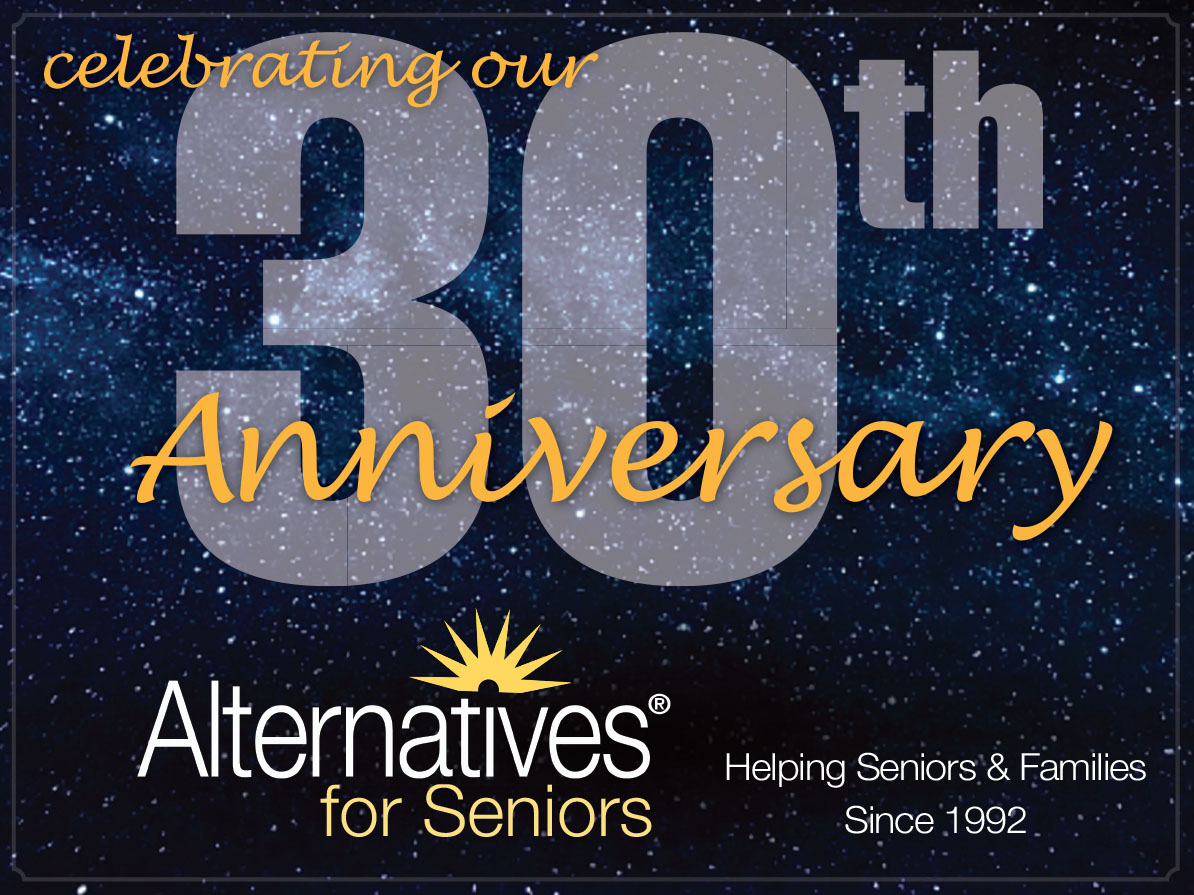 Celebrating 30 Years – The Story of Alternatives for Seniors
Working in the Multi-Family Housing Industry, Anita was asked to market the Congregated Living Facility located in Monroe, Michigan. She quickly realized it would be hard to reach the intended people as there were no targeted advertising platforms available at the time. With The Yellow Pages and local newspaper being the only available advertising, she struggled with how to market this community.
Years later, Anita ventured out on her own as a Consultant for Multi-Family Housing and was hired by a former client to market, promote, renovate and fix up a newly acquired Nursing Home Chain. Again, Anita found that there still was not a good platform to market nursing homes and retirement communities.
This is where Alternatives for Seniors got its beginning. Anita took her background in marketing apartment communities and knowledge of the printed Apartment Guides (that were distributed for free in racks around town) to form a new directory – one that would focus solely on housing for seniors. The first edition appeared in January 1992 in Michigan as Senior Alternatives. The printed directories expanded to include Chicago and then Ohio. She later, changed the name to Alternatives for Seniors.
The company evolved from there. The senior housing market expanded. Communities and facilities began to branch into the different levels of care we see today. Retirement communities split to form Assisted Living and Independent Living Communities and the market began to move away from the stereo-type nursing home stigma.
In 1996, with the rise of the internet and popularity in Google, Anita started the Alternatives for Seniors website with information on Michigan Senior Housing. AlternativesforSeniors.com grew from there to include the nationwide information that you can find on it today.
Soon after, Anita found that Alternatives for Seniors was fielding calls from those looking for senior housing for themselves or a loved one. With so many options now available, people were finding it hard to find senior housing that fit their or their loved ones needs. It is here, that Anita answered the call to help her readers with finding the right fit for senior housing. She started, the Alternatives for Seniors Information Center. Headed by a Certified Senior Advisor with many years of experience both in the senior housing industry and with Alzheimer's/Memory Care, the Director of the Information Center along with other Senior Advisors help callers find the best fit without all the work of calling all the communities separately. With just one call to the Information Center, callers receive personalized help finding senior housing and best of all, the service is provided free with no obligation.
Over the last 30 years, Anita has grown her company into a professional, trustworthy and caring information resource while still keeping the small woman-owned business feel. Each and every caller, reader, website user, client and advertiser receive a personal one-on-one experience.
If you would like to hear more about Anita and Alternatives for Seniors, watch Laurie from Gracefully Greying interview Anita here:
https://gracefullygreying.com/News/category/housing/senior-living-and-care-options
Find helpful information today on topics that are important to seniors and their families.
For help finding senior housing, visit Alternatives for Seniors.
For information on "Living Life Fully" visit Gracefully Greying.
- - - - - - - - - - - - - - - - - - - - - - - - - - - - - - - - - - - - - - - - - - - - - - - - - - - - - - - - - -
Alternatives for Seniors
Alternatives for Seniors is a print and online directory that specifically caters
to the housing and personal care concerns of senior citizens and their families.
When the time comes to find Senior Housing for yourself or a loved one, turn to Alternatives for Seniors.
We offer FREE personalized assistance in finding the best senior housing option for you or your loved one.
A place that matches your interests, needs and offers the amenties that best suit you –– one that is conveniently located near your loved ones.
Call our Senior Advisors at (888) 904-1990.
If you are not ready to talk to an Advisor, visit the Alternatives for Seniors website to begin searching for the perfect home.
Housing options include: Senior Apartments, Independent Living, Assisted Living, Memory Care and Nursing/Rehab Centers
or explore your options such as Adult Day Centers or in-home assitance like Home Care and Hospice.
Also, be sure to join our Facebook community and follow us on Twitter and Pinterest.