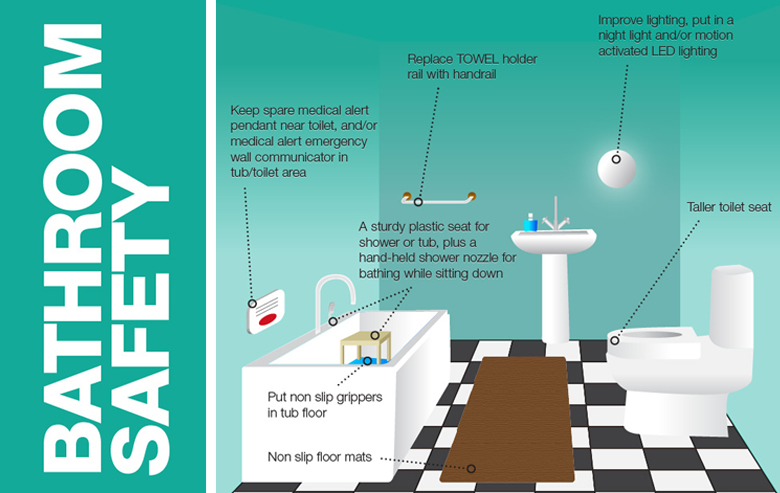 Bathroom Safety – Ways to Prevent Falls and Injuries in Your Bathroom
Try these simple steps to make a bathroom safe for seniors
The bathroom is one of the most dangerous rooms in the home for the elderly. Studies show that one in three seniors over the age of 65 will experience at least one fall annually, and most will be in the bathroom. Slick floors, small spaces, hard edges and few areas to grasp when falling increase chances for dangerous falls.
But with a few simple changes, it's easy, and important, to make a bathroom safe for seniors.
Easy Steps To Make A Bathroom Safe For Seniors
Add sturdy grab bars to bathing areas, and anchor them to wall studs to support the full weight of an adult.




Install non-skid tape or mats on the floor inside the shower or bathtub, and to the area just outside of the tub.




Place a shower chair in the bathtub to make it easier to balance while showering.



Replace a traditional shower head with a flexible handheld shower wand with an on/off button.
Used in combination with a shower chairs you'll have an easier time showering.

Raised-height seats can be installed on existing toilets to make it easier to sit.
Alternatively, toilets can be replaced with ADA-approved raised-height models to lessen the chance of a fall.

Add a

waterproof medical alert button

to the shower area for those times when you aren't wearing your regular medical alert button. Medical Alert Buttons with

automatic fall detection

are helpful in the shower – they can automatically initiate a call to call the emergency response center when a fall is detected.

Check temperature settings on water heaters, as hot water above 120 F can scald the skin.
Faucets with a no-scald regulator can be added as an extra layer of protection.


Replace standard faucet handles with models that are easier for arthritic hands to grip and turn.
If making these modifications in your own home, most of these are do-it-yourself projects that can be done in just a few hours. If you live in an assisted living apartment, ask you management company to send a maintenance worker to make the changes…you'll be glad you did!
Thank You to Our Guest Blog Writer:
Charlie Kimball
Author for Medical Care Alert
Charlie Kimball writes for Medical Care Alert, a Michigan-based company providing 24/7 medical alert monitoring for seniors. Learn more at https://www.MedicalCareAlert.com

- - - - - - - - - - - - - - - - - - - - - - - - - - - - - - - - - - - - - - - - - - - - - - - - - - - - - - - - - - - - - - - - - - - - - - -
Alternatives for Seniors is a print and online directory that specifically caters
to the housing and personal care concerns of senior citizens and their families.
When the time comes to find Senior Housing for yourself or a loved one, turn to Alternatives for Seniors. We offer FREE personalized assistance in finding the best senior housing option for you or your loved one. A place that matches your interests, needs and offers the amenties that best suit you –– one that is conveniently located near your loved ones.
Call our Senior Advisors at (888) WE-ASSIST (888-932-7747).
If you are not ready to talk to an Advisor, visit the Alternatives for Seniors website to begin searching for the perfect home. Housing options include: Senior Apartments, Independent Living, Assisted Living, Memory Care and Nursing/Rehab Centers or explore your options such as Adult Day Centers or in-home assitance like Home Care and Hospice.
Also, be sure to join our Facebook community and follow us on Twitter and Pinterest.