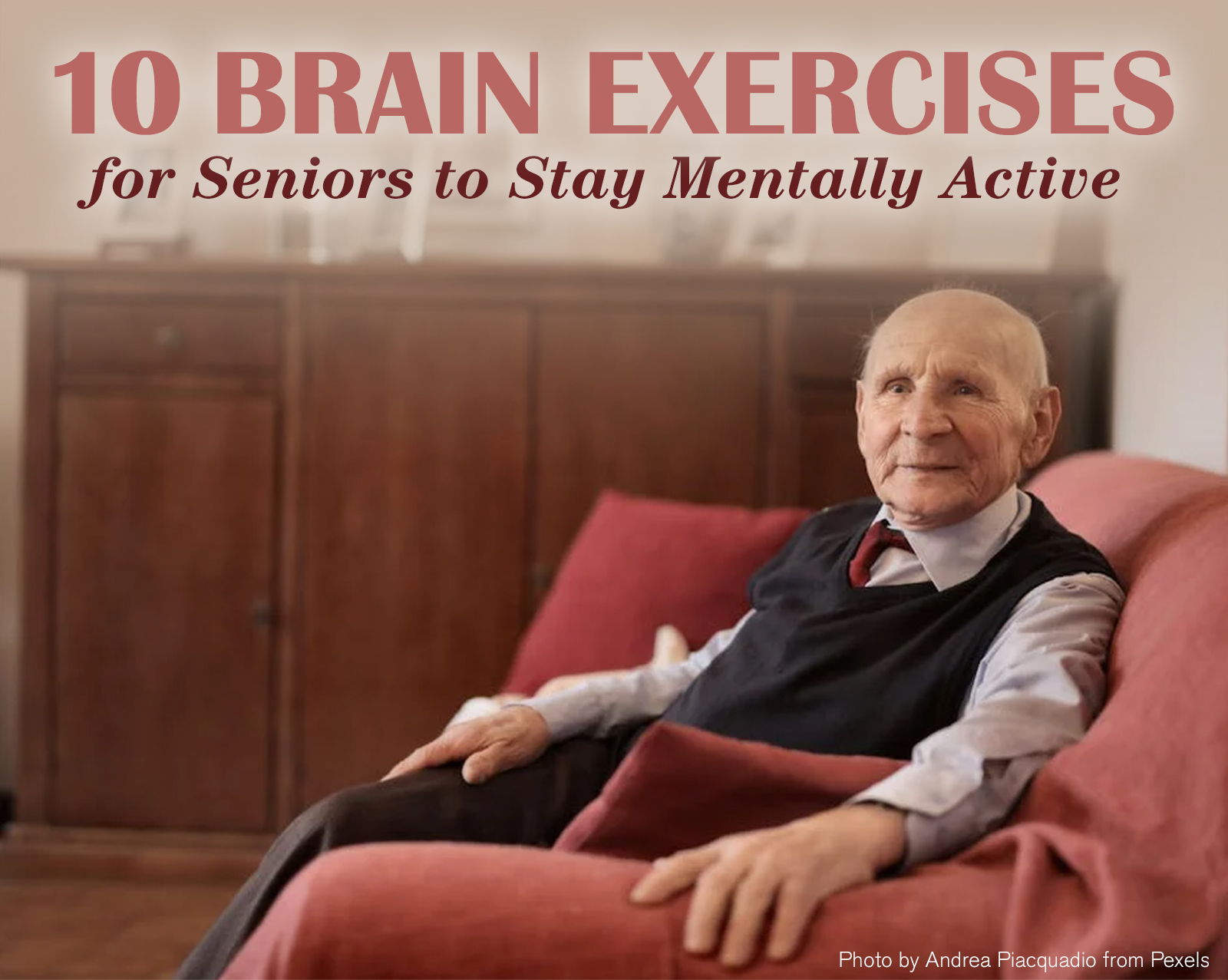 10 Brain Exercises For Seniors To Stay Mentally Active
As we age, it is essential to keep our minds active and sharp to keep our cognitive function and overall mental health in good standing. Fortunately for us, this can be easily accomplished by engaging our minds in various mind-stimulating activities.
In other words, memory may be improved, problem-solving skills may be gained, and a more optimistic outlook on life may be achieved by senior citizens who engage in regular brain exercises to stay mentally active, so why wouldn't you?
In this article, we will discuss ten different brain exercises that older adults can do as part of their regular routines to maintain a healthy mental state and remain mentally active. These brain exercises can be found in a variety of settings, including online, in books, and in video games.
Jigsaw Puzzles
First things first, jigsaw puzzles are incredible tools for improving concentration, hand-eye coordination, and thinking creatively and strategically about how to approach problems. In addition, jigsaw puzzles are easily accessible, and one can complete them regardless of their current ability or mobility level.
Even online jigsaw puzzles provide a mentally stimulating activity that can be done in the comfort of one's own home, making them particularly useful for older adults who have limited mobility. Seniors can also participate in puzzles as part of a group, which allows them to engage in a social activity that can be enjoyed in the company of friends and family.
Crossword Puzzles
Next in line is the increasingly common mental stimulation activity for older adults— the so-called crossword puzzles. Again, memory, vocabulary, and cognitive functions can all be improved due to their utilization and solving.
Seniors can work on crossword puzzles alone or in groups, providing a social activity that can be enjoyed with friends and family. Crossword puzzles can be easily found online or in your local newspaper, so don't wait up; solve a crossword puzzle or two, and stimulate your brain to remain sharp!
Sudoku Puzzles
Another form of challenging mental exercise that is increasingly common among older adults is the sudoku puzzle. This type of puzzle enhances one's ability to concentrate, recall information, and find solutions to problems.
In addition, solving Sudoku puzzles is a fantastic way to keep one's mind active and stimulated. Just like with crossword puzzles, seniors can work on Sudoku puzzles independently or in groups, providing them with a social activity that can be enjoyed with friends and family.
Word Search Puzzles
Word searches provide senior citizens with a simple and entertaining way to exercise their brains. Memory and overall cognitive function are both improved as a result of their use. Word search puzzles are a fun social activity that can be enjoyed with both close friends and family members, as they can be completed either individually or in groups.
Board Games
Playing board games is a time-honored tradition that can keep your mind sharp. They help enhance cognitive function, memory, and the ability to solve problems. In addition, because they can be played solo or with multiple people, board games are an excellent option for those looking for a social activity that can be shared with loved ones. The elderly have their pick from a wide selection of board games, including time-honored favorites such as chess, checkers, and even Scrabble.
Memory Games
Memory games are a fantastic tool for enhancing one's memory and cognitive ability. Memory games can be played by a single person or multiple people simultaneously, making them an ideal option for a group activity that family and friends can enjoy.
In addition, memory games are available in various formats, and seniors can enjoy playing multiple of them, including matching objects and memory card games.
Reading and Discussing Current Events
Reading about current events and having conversations about them is another excellent way to keep your mind active. It helps improve one's cognitive function, memory, and vocabulary.
Newspapers, magazines, and online news sources are all options for seniors looking to keep up with the latest happenings in the world. A social activity that can be enjoyed with other people is for them to discuss current events with their friends and family members.
Learning a New Language or Skill
A great way to keep one's mind active and healthy is to educate oneself in a new field or acquire new skills. Learning new languages or new skills is something that senior citizens can do at community centers, libraries, or even online.
After all, you're never too old to start learning your favorite foreign language or enroll in a pottery class for elders. The best thing about these mental exercises is that you can practice both with family and friends, thus providing yourself with an opportunity to participate in a social activity that can be enjoyed with other people.
Writing Exercises
Writing exercises are another fantastic way for seniors to stay mentally active. Seniors can write about their personal experiences, stories, or memories. They can also write about current events, hobbies, or interests.
Afterward, you can read the writings on some family gathering like a holiday or a Sunday dinner and check what your closest ones think about your memoirs or science-fiction essays.
Meditation and Mindfulness Practices
Last but not least, have you thought of how meditation and mindfulness practices can be great for staying mentally active and improving overall mental health when you age? These practices help to improve focus, concentration, and memory, the three pillars of remaining mentally well.
Seniors can practice meditation and mindfulness on their own or in groups, which provides a social activity that can be enjoyed with friends and family. They can also attend guided meditation classes or listen to audio meditations to help them stay focused and engaged.
Final Thoughts
In conclusion, there are many brain exercises that seniors can incorporate into their daily routines to stay mentally active and healthy. Jigsaw puzzles, crossword puzzles, Sudoku puzzles, word search puzzles, board games, memory games, reading and discussing current events, learning a new language or skill, writing exercises, and meditation and mindfulness practices are all great options for seniors. By staying mentally active, seniors can improve their cognitive function and overall mental health, leading to a more positive and fulfilling life.
- - - - - - - - - - - - - - - - - - - - - - - - - - - - - - - - - - - - - - - - - - - - - - - - - - - - - - - - - - - - - - - - - - - - - - -
Alternatives for Seniors helps seniors, senior care professionals, and senior living communities nationwide.
Contact us today to find out more! (888) 904-1990
- - - - - - - - - - - - - - - - - - - - - - - - - - - - - - - - - - - - - - - - - - - - - - - - - - - - - - - - - - - - - - - - - - - - - - -
Thank You to Our Guest Blog Writer:
Steven Briggs
Steven is a freelance writer who is an avid player, designer, and proponent of all things
about jigsaw puzzles, recreation, and relaxation.

- - - - - - - - - - - - - - - - - - - - - - - - - - - - - - - - - - - - - - - - - - - - - - - - - - - - - - - - - - - - - - - - - - - - - - -
Alternatives for Seniors
Alternatives for Seniors is a print and online directory that specifically caters
to the senior living and personal care concerns of senior citizens and their families.
When the time comes to find Senior Housing for yourself or a loved one, turn to Alternatives for Seniors.
We offer FREE personalized assistance in finding the best senior housing option for you or your loved one.
A place that matches your interests, needs and offers the amenties that best suit you –– one that is conveniently located near your loved ones.
Call our Senior Advisors at: (888) 904-1990.
If you are not ready to talk to an Advisor, visit the Alternatives for Seniors website to begin searching for the perfect home.
Housing options include: Senior Apartments, Independent Living, Assisted Living, Memory Care and Nursing/Rehab Centers
or explore your options such as Adult Day Centers or in-home assitance like Home Care and Hospice.
Alternatives for Seniors Directories
Request a copy or copies of our print directories here. Or you can view Print Directories online here.
Social Media
Also, be sure to join our Facebook community and follow us on Twitter and Pinterest.