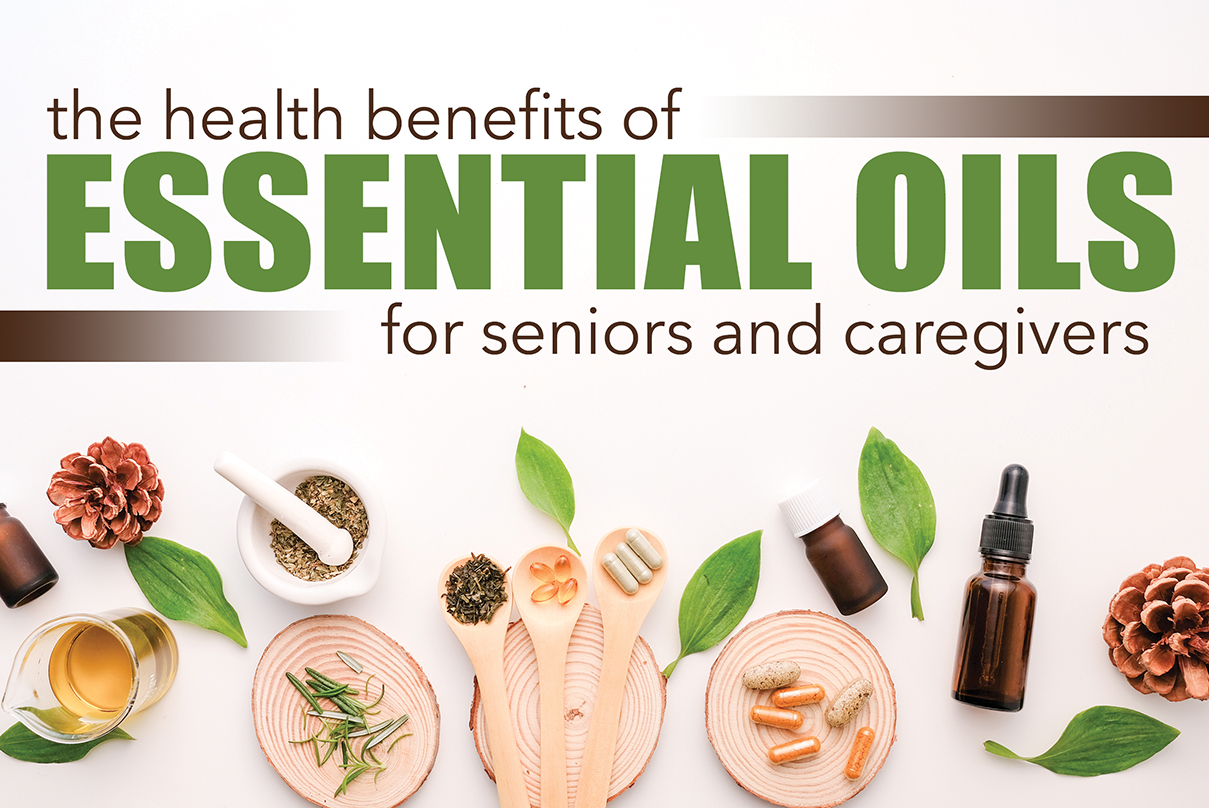 Health Benefits of Essential Oils
for Seniors and Caregivers
Essential oils aren't just a popular trend. Studies show that they can be used as a natural stand alone or complementary alternative to traditional medicine. The use of essential oils for health can provide holistic comfort for the elderly and their caregivers by creating a natural way to support emotional and physical wellbeing.
Because of their complex composition, essential oils possess a number of biological activities that are beneficial when used accordingly such as antioxidants, anti-inflammatory, and antimicrobial components. Some common medical conditions treated by essential oils include arthritis, insomnia, stress, and respiratory issues.
Essential oils are mainly used through three forms of application: topical, diffused (aromatherapy), and internal. As they are highly concentrated chemical plant-based substances, specialists recommend ingesting essential oils only with guidance of a certified health professional. How you apply essential oils depends on what benefits you are seeking, and the elements of the oil itself.
Topical Treatment
Applied topically, some essential oils may help with inflammation, arthritis, bruises, or skin flair-ups caused by eczema. It's recommended use is diffused by water and in small moderation. Massaging or applying heat to the area before and after application will help circulation and effectiveness of the oil.
For instance, tea tree oil is a herbal remedy that can be used as an antifungal treatment. It's commonly sold over-the-counter as a pure essential oil and can also be used to treat small cuts or scrapes due to its antibacterial components when applied lightly to the problem area.
Aromatherapy
When inhaled essential oils have proven to improve sleep, stimulate appetite, heal respiratory issues, and increase energy. The therapeutic use of essential oils is known as aromatherapy and works through the sense of smell and skin absorption using products such as inhalers, clay masks, lotions, bathing salts, diffusers, and aromatic spritzers.
Eucalyptus oil is a popular aromatherapy choice for its medicinal properties which help relieve chest congestion and coughs commonly associated with a cold or flu. Lavender is known to relieve stress, and peppermint oil can alleviate nausea through inhalation or light topical application on your chest.
Ingestion
Essential oils in their pure form are not recommended for ingestion as this could be harmful to your organs and overall health. Ingestion should be supervised by a medical professional and can be given through small doses of capsules or single drops (for example, rubbing a small portion of diffused tea tree oil on an achy tooth). The Arthritis Foundation recommends 540 mg to 2.8g daily in divided doses of evening primrose oil capsules for rheumatoid arthritis. Contact your doctor before choosing to ingest any type of oil.

Essential oils can be poisonous if administered incorrectly.
From promoting relaxation in a comforting environment to its physical healing properties, seniors and caregivers can benefit from essential oils as a natural, affordable alternative to traditional medicine on a daily basis.
---
Thank You to Our Guest Blog Writer:
Gabriella Cruz, Staff Writer

Consumers Advocate.org
email: gabriella.cruz@consumersadvocate.org
www.consumersadvocate.org

Author Bio:
Gabriella Cruz-Martínez is a Staff Writer at ConsumersAdvocate.org. Past work includes reporting on Illinois politics, education, and business for various Chicago-based publications including The Hyde Park Herald, The Journal Gazette & Times-Courier, and Chicago Talks.
- - - - - - - - - - - - - - - - - - - - - - - - - - - - - - - - - - - - - - - - - - - - - - - - - - - - - - - - - - - - - - - - - - - - - - -
Alternatives for Seniors is a print and online directory that specifically caters
to the housing and personal care concerns of senior citizens and their families.
When the time comes to find Senior Housing for yourself or a loved one, turn to Alternatives for Seniors.
We offer FREE personalized assistance in finding the best senior housing option for you or your loved one.
A place that matches your interests, needs and offers the amenties that best suit you –– one that is conveniently located near your loved ones.
Call our Senior Advisors at (888) WE-ASSIST (888-932-7747).
If you are not ready to talk to an Advisor, visit the Alternatives for Seniors website to begin searching for the perfect home.
Housing options include: Senior Apartments, Independent Living, Assisted Living, Memory Care and Nursing/Rehab Centers
or explore your options such as Adult Day Centers or in-home assitance like Home Care and Hospice.
Also, be sure to join our Facebook community and follow us on Twitter and Pinterest.