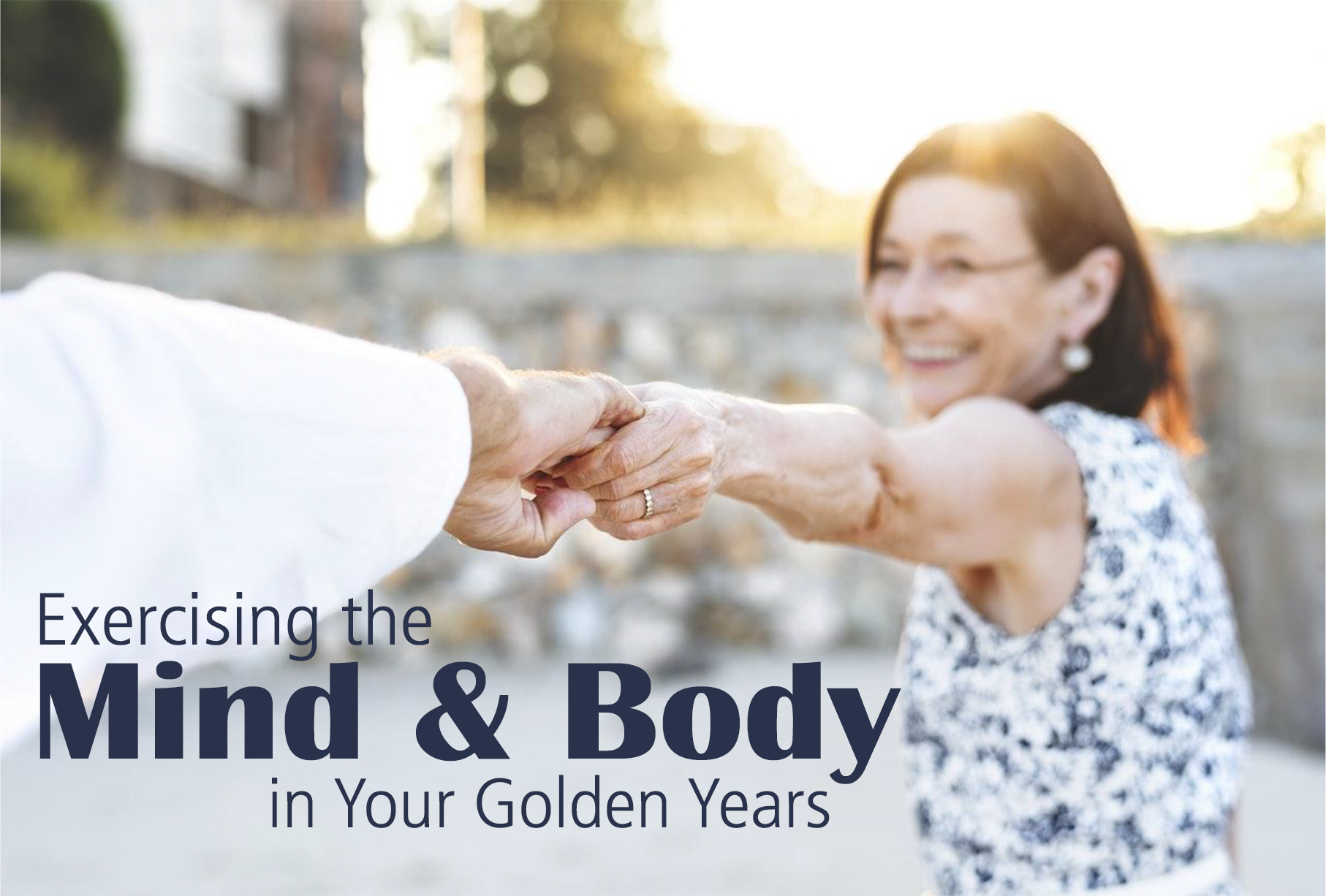 Exercising the Mind and Body
in Your Golden Years
After years of dedication to your family, career, and major responsibilities, you've come to retirement ready to prioritize your own needs and wants. However, many seniors are stressed, hit by unforeseen setbacks due to finances, family, and health. Some of these things you cannot control, but you can plan or prepare for them. Taking steps to encourage and commit to healthy activities is one of the easiest things you can do to make sure you enjoy your golden years.
Need some help thinking of activities to help protect your physical and mental health?
Here are a few suggestions to help you pave the path to a healthy body and mind.
Exercise You Actually Enjoy

A recent study revealed that for folks in the 70s who have made exercise a priority for several decades or more, their golden years really, truly shine. This means it is never too late to begin a workout routine. However, if you want to build a routine that you can sustain, you'll want to make sure you explore new activities and have fun while you workout. Some ideas include:
Staying flexible and strong with yoga.
Go to a studio that specializes in senior classes — and make a few new friends while you're there — or follow along with videos at home.

Taking a walk with a dog or a friend.
Senior isolation is a major player in issues with senior physical health. Taking a walk with a four-legged or two-legged friend is not only good for you, but it is also good for their health.

Being mindful of your joints.
High-impact exercise like running or jogging can cause more harm than good for some bodies. Instead, hop on a bike. Many cities put effort into developing beautiful, paved biking trails — there might be one near you.
Exercise is one important part of physical health; proper healthcare coverage is another. Protecting your health means being proactive about your Medicare coverage. Make sure you have an extra cushion in place by looking into a Medicare Part C plan, which is an Advantage Plan that includes Part A and Part B. This can help you secure coverage for dental, vision, and prescriptions. Open enrollment for this year has already concluded, but you can also take part in enrollment around your 65th birthday.
Flex Your Mind Muscle
In the United States, one in 10 people over 65 is dealing with Alzheimer's — that's roughly 5.5 million individuals. It is not just important — it is paramount — that you keep your brain stimulated and active. You can make this effort in many ways, some out and about, while others from the comfort of your own home. You can take 15 to 30 minutes a day playing free online brain games or watching YouTube tutorials to help you learn new skills and hobbies.
Other ways to keep your brain active include:
Taking a computer class for seniors at your local community college.

Having a friend over to work on putting together a jigsaw puzzle.

Participating in a workshop offered at your local library.

Learning a new craft or skill
like knitting, playwriting or photography, with online courses from websites like Coursera or Skillshare.
Keeping your mind young is the key to healthy aging. All the free time you have in retirement can be both a blessing and a curse. Without the responsibilities you used to have filling up your time, you might feel a little lost during the day. Working all your muscles — mind and body — will not only keep you busy, but it will also keep you healthy.
Thank You to Our Guest Blog Writer:
Karen Weeks
elderwellness.net
karen@elderwellness.net
Image via Pexels
- - - - - - - - - - - - - - - - - - - - - - - - - - - - - - - - - - - - - - - - - - - - - - - - - - - - - - - - - - - - - - - - - - - - - - -
Alternatives for Seniors is a print and online directory that specifically caters
to the housing and personal care concerns of senior citizens and their families.
When the time comes to find Senior Housing for yourself or a loved one, turn to Alternatives for Seniors. We offer FREE personalized assistance in finding the best senior housing option for you or your loved one. A place that matches your interests, needs and offers the amenties that best suit you –– one that is conveniently located near your loved ones.
Call our Senior Advisors at (888) WE-ASSIST (888-932-7747).
If you are not ready to talk to an Advisor, visit the Alternatives for Seniors website to begin searching for the perfect home. Housing options include: Senior Apartments, Independent Living, Assisted Living, Memory Care and Nursing/Rehab Centers or explore your options such as Adult Day Centers or in-home assitance like Home Care and Hospice.
Also, be sure to join our Facebook community and follow us on Twitter and Pinterest.