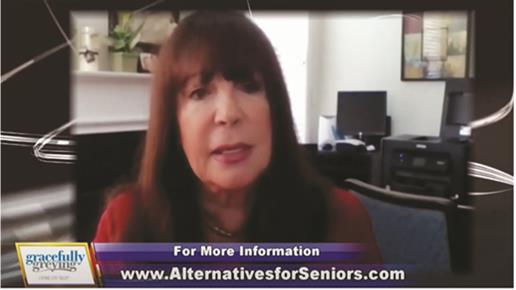 New Alliance Will Bring More Information to Seniors
Alternatives for Seniors is excited to announce our new alliance with Gracefully Greying, a go to resource hub for information for those who are getting older or have aging parents or loved ones. Interviews, articles, videos and more include information on: legal, medical, social, financial, psychological and lifestyle topics all geared to the "greying" population.
An example of informative video you can find on Gracefully Greying is an interview with Laurie Blume of Gracefully Greying and Anita Kremer, President of Alternative for Seniors, discussing the senior housing industry. Anita joins Laurie to discuss the great need for direct access to information on senior housing. Anita explains the many options, ranging from independent living, retirement communities, senior apartments, assisted living, memory care, and continuing care communities. Alternativesforseniors.com is a tremendous source and nationwide database, and Anita explains the necessity for personal attention and educating seniors and their families to find the right fit at the appropriate time. Watch this informative video along with others at www.gracefullygreying.com
As part of the new alliance, Alternatives for Seniors will promote Gracefully Greying with a banner ad on their search results pages on: www.AlternativesforSeniors.com Additionally, Gracefully Greying will have a banner ad for Alternatives for Seniors with link to their website on: www.gracefullygreying.com.
Find helpful information today on topics that are important to seniors and their families. For help finding senior housing, visit Alternatives for Seniors. For information on "Living Life Fully" visit Gracefully Greying.
- - - - - - - - - - - - - - - - - - - - - - - - - - - - - - - - - - - - - - - - - - - - - - - - - - - - - - - - - -
Alternatives for Seniors
Alternatives for Seniors is a print and online directory that specifically caters
to the housing and personal care concerns of senior citizens and their families.
When the time comes to find Senior Housing for yourself or a loved one, turn to Alternatives for Seniors.
We offer FREE personalized assistance in finding the best senior housing option for you or your loved one.
A place that matches your interests, needs and offers the amenties that best suit you –– one that is conveniently located near your loved ones.
Call our Senior Advisors at (888) 904-1990.
If you are not ready to talk to an Advisor, visit the Alternatives for Seniors website to begin searching for the perfect home.
Housing options include: Senior Apartments, Independent Living, Assisted Living, Memory Care and Nursing/Rehab Centers
or explore your options such as Adult Day Centers or in-home assitance like Home Care and Hospice.
Also, be sure to join our Facebook community and follow us on Twitter and Pinterest.