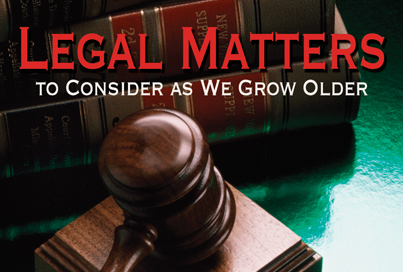 Legal Matters To You Should Plan For Now
For some, the idea of growing older is welcomed as a time to enjoy family and special interests. For others, it can be a time of worry and sadness as one chapter of their lives comes to a close. Regardless of your perceptions on aging, you will want to consider the legal implications of growing older, for yourself and your loved ones.
Four Legal Matters To Plan Out
1. Estate Planning
Estate planning becomes important when you become older, particularly if you have a large family. Contrary to popular belief it isn't just for those who own the million dollar home. Planning your estate includes the creation of a will in order to designate how your property is split after you have passed.
It also addresses how your minor children will be cared for, who is to take care of your last requests and how your body should be laid to rest. If you do not make a will or establish how your estate will be handled, it is likely that the state will appoint someone to disperse your possessions after you have passed on--this person will likely be a stranger who is unfamiliar with your personal preferences.
2. Power of Attorney
It is estimated that 20% of people aged 60 and over suffer from mental health issues, with dementia and depression representing the majority of the cases. Dementia is progressive and eventually takes over a person's mind, resulting in loss of function and the ability to lead a normal life. Ultimately you can no longer make decisions rationally and must consider appointing a power of attorney (POA).
A power of attorney will step in and make decisions regarding your health when you can no longer do it yourself. Choosing a power of attorney must be done carefully since you are putting your life in his/her hands, as well as your money and personal possessions.
3. Advance Directives
If you are suffering from a debilitating illness or one that is only going to get worse, you can avoid much of the heartbreak and stress by making end-of-life decisions in advance. Do not Resuscitate (DNR) orders are one form of an advance directive that requires doctors to forgo CPR or other measures used to "bring you back" after you have stopped breathing.
A living will is another kind of advance directive that lets doctors know what level of treatment you would want once you have become unconscious and cannot care for yourself. It will also let medical professionals know if you want artificial hydration or nutrition, and whether you would want to be put on a ventilator. Advance directives allow you to make decisions that would otherwise go to your power of attorney or other family.
4. Representative Payees
In some cases, you may be capable of making decisions regarding your health care but need help making financial decisions or have no desire or need to deal with monthly Social Security checks. In this case, you can request permission from the Social Security administration to appoint a representative payee. This is someone that you trust to use your money to take care of your financial responsibilities and necessities.
- - - - - - - - - - - - - - - - - - - - - - - - - - - - - - - - - - - - - - - - - - - - - - - - - - - - - - - - - - - - - - - - - - - - - - - - - - - - - - - - - - - - - - - - - - - - - - - - - - - -
If you are thinking about senior housing for you or a loved one such as a senior apartment, independent-living, assisted-living, memory care, nursing/rehab center or other continuing-care community, visit alternativesforseniors.com to assist your search. Alternatives for Seniors is a print and online directory that specifically caters to the housing and personal care concerns of senior citizens and their families. You can also call our Senior Specialists at (888) WE-ASSIST (888-932-7747).
- - - - - - - - - - - - - - - - - - - - - - - - - - - - - - - - - - - -
Thank You to Our Guest Blog Writer:
Laurence Banville, Esq.
Doolan, Platt & Setareh, LLP
Author Bio:
Laurence Banville, Esq. is the managing partner of Nursing Home Legal NY with a reputation for thorough preparation and a balanced approach to his clients. He is a down-to earth bright young attorney who has been honored with the Top 40 under 40 award. This recognition is given to the top 40 ranked attorneys across the United States who are under 40 years of age. He represents plaintiffs and in particular of nursing home abuse.
BLOG Date: Thursday, August 4, 2016