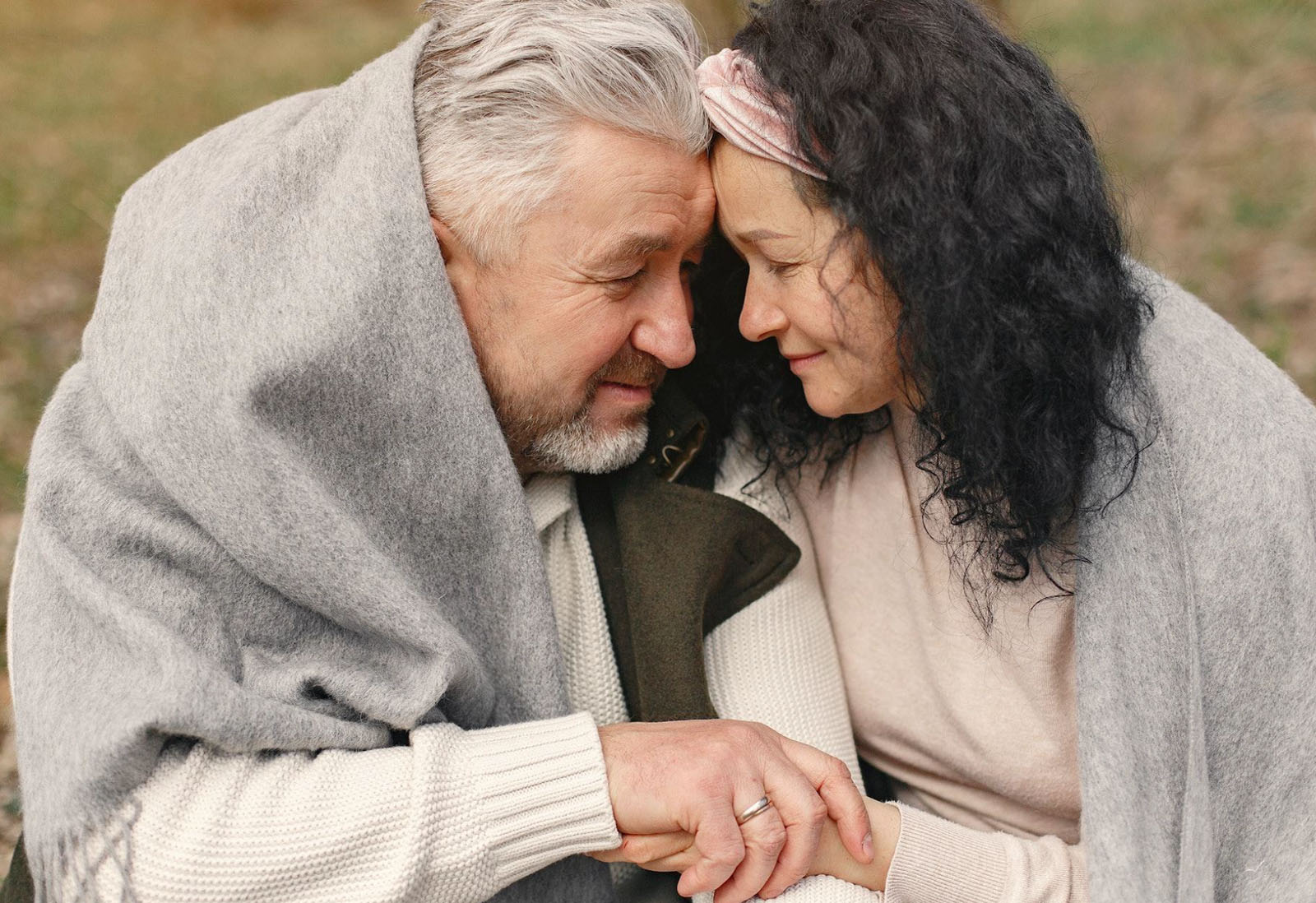 Making a Life Together in Your Golden Years:
A Guide for Senior Couples
Getting married later in life can be a wonderful experience. But you might find that you face certain challenges that younger couples do not. For senior couples, honest conversations about finances, estate planning, and other essential topics are integral in building a strong foundation for your relationship. Here, we explore how to navigate these topics and make your golden years your best years.
Making Your Relationship the Top Priority
The most important thing you can do as a senior couple is to prioritize your relationship over everything else. This means taking time to get to know each other more deeply, bypassing the surface level to the emotional and spiritual levels.
You'll also want to take time every day to celebrate being married, whether it's sharing a cup of joe in the morning or going out to dinner. Nurturing your relationship will help the two of you navigate misunderstandings and disagreements that arise in the future.
Looking at Apartments
If you and your partner are looking for a new home, you might consider renting an apartment or house, which comes with less maintenance and commitments than purchasing a home. That said, finding a rental home that is suitable for seniors can be challenging. It's important to research homes with the layout, features, and amenities you need. Visit Alternatives for Seniors to find senior apartments near you!
Also, carefully look through the rental agreement so that you know precisely what your leasing package includes before signing any documents. Many properties offer senior couples special concessions and discounts, such as reduced rent or additional amenities; don't be afraid to ask about these perks!
Launching a Small Business Together
One excellent way to make your golden years even more special is to start a business together. This will give you and your partner something fun and meaningful to work on while yielding some significant financial rewards along the way!
Depending on the type of business you choose, you may be able to run it from home and remain close while working. Maybe you could sell handmade items online or launch an Airbnb rental service (among countless other ideas) — you might be surprised how exciting of a journey you find business ownership to be!
If you choose to become an entrepreneur, you'll need to select a legal structure for your business. Forming a limited liability company (LLC) can provide you with tax flexibility, liability protection, and many other advantages. Learn your state's regulations around LLCs, and speak with a formation service about handling the legwork.
Discussing Finances Openly
Open communication is key when it comes to finances. You and your partner should understand each other's financial situation before getting married, so you don't have to worry about any surprises down the line. If you're already married, make these conversations a priority!
You'll want to talk about any debt that either or both of you have, retirement savings, investments, health insurance, and any other factors that impact your finances and overall well-being. Further, be sure to establish financial goals together that give you something positive to work towards, whether that means paying off debt more quickly or saving up for travel.
Handling Your Taxes and Estate Planning
Taxes and estate planning are two areas where many senior couples struggle due to their complexity. Set aside time after getting married (or even before) to sit down with an accountant or tax lawyer who can advise you on handling these issues moving forward. Qualified professionals can answer any questions you have related to filing taxes jointly or separately, as well as provide guidance on estate planning issues like wills and trusts.
Digitizing Important Documents
Digitizing documents offers numerous advantages with respect to organization and security. By investing in cloud-based technology that allows you to store your documents online, you can enjoy greater accessibility from anywhere in the world. Furthermore, as digital documents are searchable online, finding the specific document you need is much quicker than poring through paper files. If you need to change a PDF, you can make edits by clicking here. After revising the document, you can save it as a new file.
Summary
It's not always easy, but navigating marriage correctly in your golden years can lead to a beautiful partnership. Remember to prioritize your relationship, find the right home, talk about finances, digitize important documents, and follow the other tips above. You may even want to start a business together. Taking time to make a plan now can set the stage for a marriage that's always full of love and respect — no matter what life throws at you!
Alternatives for Seniors helps seniors, senior care professionals, and senior living communities nationwide.
Contact us today to find out more! (888) 904-1990
Image via Pexels
- - - - - - - - - - - - - - - - - - - - - - - - - - - - - - - - - - - - - - - - - - - - - - - - - - - - - - - - - -
Thank You to Our Guest Blog Writer:
Anya Willis,
anya.willis@fitkids.info
- - - - - - - - - - - - - - - - - - - - - - - - - - - - - - - - - - - - - - - - - - - - - - - - - - - - - - - - - -
Alternatives for Seniors
Alternatives for Seniors is a print and online directory that specifically caters
to the housing and personal care concerns of senior citizens and their families.
When the time comes to find Senior Housing for yourself or a loved one, turn to Alternatives for Seniors.
We offer FREE personalized assistance in finding the best senior housing option for you or your loved one.
A place that matches your interests, needs and offers the amenties that best suit you –– one that is conveniently located near your loved ones.
Call our Senior Advisors at (888) 904-1990.
If you are not ready to talk to an Advisor, visit the Alternatives for Seniors website to begin searching for the perfect home.
Housing options include: Senior Apartments, Independent Living, Assisted Living, Memory Care and Nursing/Rehab Centers
or explore your options such as Adult Day Centers or in-home assitance like Home Care and Hospice.
Also, be sure to join our Facebook community and follow us on Twitter and Pinterest.