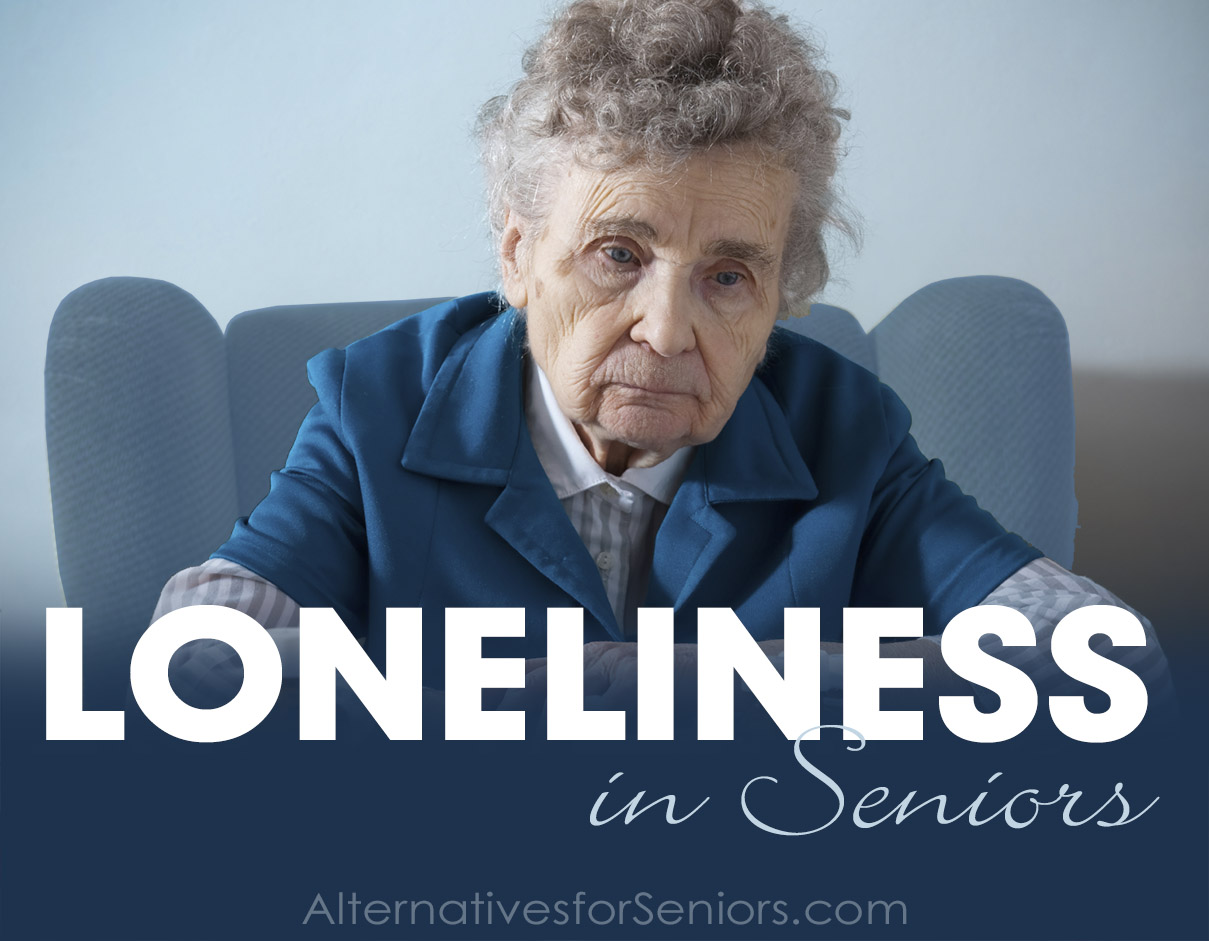 Loneliness in Seniors
Setting aside all the difficult things we as a society have been faced with these last few years, loneliness has always been a common occurrence as we age. We retire from our jobs, our children are busy raising their own families, our friends move away or worse pass away and we just are not as mobile as we use to be. All of this makes for the perfect storm – loneliness.
Loneliness is not only being or feeling alone, it also opens the doors to a path of health issues. As we become more and more lonely, we may lose the desire to cook for just ourselves leading to a lack of interest in eating. Our health may decline as we start to feel like we are unwanted or a burden to others. Cognitive decline, depression, heart disease, high blood pressure, becoming overweight, a weak immune system, anxiety and even death are all associated with loneliness but there is still time to combat all of this.
Family, friends and even neighbors can help the elderly in their lives avoid loneliness.
Here are a few ways to help:
Check In with a Phone Call.
This can be as simple as a weekly phone call to say hi. While on the phone you can ask if there is anything they need. Do they have enough groceries? Do they need any help around the house? They may only need the comfort of the phone call and weekly phone calls tend to be shorter than rare phone calls.


Pop In for a Visit.
Take some time to visit and listen to their stories, daily struggles or whatever they want to discuss. Sometimes, the best thing you can do is listen. These little conversations can sometimes be a big eye opener to what is going on and what they might need help with.


Share a Meal.
Did you cook too much food for your family? Do you have leftovers? Consider packaging some of it up and taking it over to an elderly neighbor or family member. Seniors often find it hard to cook for just themselves and your home cooked meal could really brighten their day. Feeling extra ambitious, offer to take your senior loved one to dinner at a restaurant. This would be especially appreciated if they don't have the ability to get out much.


Help Them Find a New Hobby
Getting them involved in a new hobby will help pass the time. Your senior loved one my now have a reason to leave the house.


Have Them Sign Up for a Class or Seminar.
Many colleges offer free or reduced cost classes to seniors. Your loved one may find a new interest and in turn might make new friends through classmates.


Adopt a Pet.
Having a pet has shown to have numerous benefits to physical and mental health. A pet will give your loved one someone to care for which will give them a reason to get up every day. An added benefit to adopting a pet is the pet will show them affection and attention and help combat the loneliness. Many pet adoption centers even offer free or reduced cost adoptions for seniors.



Hire

Home Care

Companion or Caregiver


Home care agencies offer companionship services as well as help with daily living tasks such as housekeeping, cooking, shopping and some provide transportation. Hiring a caregiver for even just a few hours one day a week can help with loneliness by providing someone to talk to and help around the house. This can also offer peace of mind for family who do not live close. Unfortunately, home care companions can be costly for those on a fixed income as insurance does not cover home care.
Sometimes, these things may not be enough to help your loved one with loneliness. That's when considering a Senior Housing Community may be the best option. Senior Housing Communities offer numerous benefits for your loved one. Depending on the community you choose, your loved one may have their own private apartment or room for privacy when they need it and want some alone time but they will also have the opportunity to be as social as they like. Some communities offer resort-style amenities including restaurant-style dining, craft and game rooms, movie theaters, outdoor spaces, gardening, exercise classes, swimming pools, scheduled transportation, trips and even putt-putt courses and dog walks. With daily activities, onsite beauty salons, onsite doctors and medical services plus all the amenities, your loved one could be as busy as they wish. Plus, an added benefit, your loved one can attend all the activities and amenities without having to leave the community and they can make friends with those who live in the same community. No climbing in and out of cars, no worrying about slipping on ice, no going from location to location to do more than one thing.
Senior Housing can also be more affordable than you think. One monthly payment can cover rent, utilities, meals, housekeeping, linen service, activities and more. Some communities even offer Age-In-Place options where you can add services as your loved one needs them such as assistance with activities of daily living, medication management and more.
If you would like to start looking for a Senior Housing Community that fits your loved one's budget, call our Senior Advisors today. Our Advisors will ask you a few questions about where your loved one would like to live, what amenities they would like and what their budget is. Then our Advisors will search for communities that match and help you set up community tours. Just one phone call can put you in contact with all the locations in your area that best match your needs. Call today: 1-888-904-1990.
- - - - - - - - - - - - - - - - - - - - - - - - - - - - - - - - - - - - - - - - - - - - - - - - - - - - - - - - - -
Alternatives for Seniors
Alternatives for Seniors is a print and online directory that specifically caters
to the housing and personal care concerns of senior citizens and their families.
When the time comes to find Senior Housing for yourself or a loved one, turn to Alternatives for Seniors.
We offer FREE personalized assistance in finding the best senior housing option for you or your loved one.
A place that matches your interests, needs and offers the amenties that best suit you –– one that is conveniently located near your loved ones.
Call our Senior Advisors at (888) 904-1990.
If you are not ready to talk to an Advisor, visit the Alternatives for Seniors website to begin searching for the perfect home.
Housing options include: Senior Apartments, Independent Living, Assisted Living, Memory Care and Nursing/Rehab Centers
or explore your options such as Adult Day Centers or in-home assitance like Home Care and Hospice.
Also, be sure to join our Facebook community and follow us on Twitter and Pinterest.