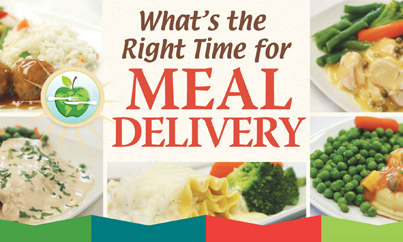 Is It Time for Meal Delivery?
Are the Cupboards Empty? Is Your Loved One Losing Weight?

Next time you stop in to visit an elderly loved one, take a quick look in the kitchen: are the cupboards fairly empty? When you open the refrigerator do you find expired products or very little food at all? It may be time to think about enlisting the help of a meal delivery service.
Limited Amounts of Food in the Home

It is important for your loved ones to have access to groceries. If they are finding it hard to get to the market due to driving concerns, they aren't able to get the nutrition they need to remain healthy. They may not make the trip as often as they should. They may not feel strong enough to carry the groceries into the house and put them away properly. And, they may not want anyone to know they are having difficulty.
Lack of Appetite
If you are noticing unexplained weight loss, this may be a sign of dementia: your loved one is simply forgetting to eat. Or your loved one is suffering from depression, which is not uncommon, and not eating enough.
Senior Meal Delivery
Meal delivery to your senior adult may be a solution to making sure that nutrition is available at all times. Meals can be selected online and can be delivered to the home via a shipping service or personalized delivery. It doesn't have to be three meals each day… you select what is right for your needs. It might be that dinner is what you need right now, and will evaluate as you go.
Meal plans can come in a variety of disciplines: gluten-free, low sodium, vegan, vegetarian, kosher, and those for diabetic needs. Some even come in pureed form.
Provider Delivery Personnel
Senior meal providers can offer much more than just food. When selecting a provider that offers it's own personnel to deliver the meals to each home, you add an extra set of eyes on your loved one. When the delivery personnel walk into the home, they can tell if anything has changed: is all of the food gone from last week or are there meals still uneaten (a sign of declining appetite)? Is personal hygiene being maintained from week to week (clean clothing, teeth brushed, hair combed)? Is the home in good working order, or are light bulbs out, plumbing not working or dishes piling up in the sink? Is the mail opened? Is the senior adult able to keep the house fairly clean?
These insights can be invaluable. They can paint a picture of what daily life is like for your loved one so you know where struggles exist. There is peace of mind in knowing that someone is checking in weekly to deliver the meals, no matter which meal plan is selected. The driver becomes an important contact to the outside world for the senior adult and a liaison for you in the continued care of that loved one.
Meal Delivery in Ohio & Indiana
For more information on meal delivery in Ohio (Akron, Cincinnati, Cleveland, Columbus, Dayton, Toledo & Youngstown) and Indiana, please call Global Meals at (888) 928-2323 or email us at: help@globalmealsohio.com. Visit us online at globalmeals.org.
- - - - - - - - - - - - - - - - - - - - - - - - - - - - - - - - - - - - - - - - - - - - - - - - - - - - - - - - - -
If you are thinking about senior housing for you or a loved one such as a senior apartment, independent-living, assisted-living, memory care or other continuing-care community, visit AlternativesforSeniors.com to assist your search. Alternatives for Seniors is a print and online directory that specifically caters to the housing and personal care concerns of senior citizens and their families. You can also call our Senior Specialists at (888) WE-ASSIST (888-932-7747).
- - - - - - - - - - - - - - - - - - - - - - - - - - - - - - - - - - - - - - - - - - - - - - - - - - - - - - - - - -
Thank You to Our Guest Blog Writer...
Global Meals

(888) 928-2323
www.GlobalMeals.org