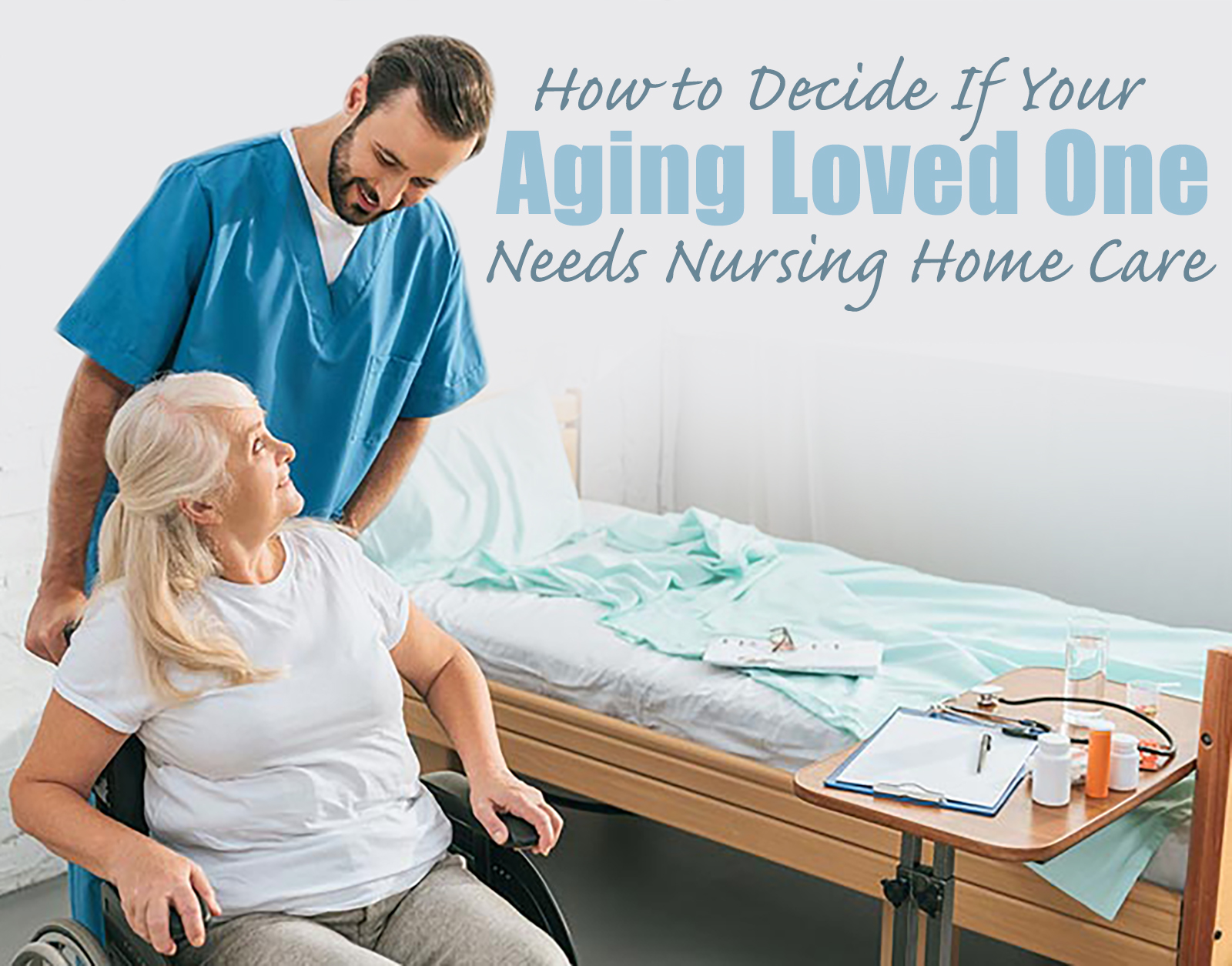 How to Decide If Your Aging Loved One Needs Nursing Home Care
It's always a difficult decision to put your aging loved one in a nursing home. But sometimes, it's truly the best solution for everyone involved, including the senior.
But you don't want to make the decision before it's time.
So in this post, we're going to cover how you can decide whether your aging loved one needs a nursing home.
Behavioral Changes
If your elderly loved one suddenly becomes aggressive towards his or her caregiver for no apparent reason and without resolution, it's probably time for that loved one to enter nursing home care. In a facility like this, your loved one will be cared for in a safe environment where he or she will not be in danger of hurting others or themselves.
This includes "sundowner's syndrome." This syndrome is a symptom of dementia, and it describes what happens when a person with dementia becomes aggravated later in the day. This could come with aggressive behavior, and if it starts becoming intense, it may be time to research nursing homes.
Escalating Care Needs
As much as you love your elderly family member, it's important to recognize when you're no longer the best person to care for him or her. As people age, their care needs typically escalate. And this can escalate even faster if someone has a degenerative disease.
Think about how much of your time you're spending on care and whether it's time for round-the-clock supervision. If so, your loved one would definitely benefit from a nursing home or other assisted living care.
Wandering and Forgetfulness
When an elderly loved one suffers from dementia, the inherent risks of being at home are amplified by a large percentage. Really anything can happen, but one of the biggest risks is wandering. Someone with dementia is likely to wander away from home and forget where they are or how to get back. This is why you'll occasionally see an elderly missing person alert in your area. It's more common than you might expect, and if your loved one is reaching this point, it's better for him/her to be in a nursing home.
Caregiver Stress
If you're the only one caring for an elderly loved one and their needs are constantly increasing, it's easy to experience burnout. And if you get burnt out, what happens to your elderly loved one? It's not a safe situation for either of you.
The physical and psychological effects of caring for an elderly loved one can be intense, and if you don't have support, the end result can be disastrous. Think about it this way, you wouldn't want anyone who was less than their best-taking care of your loved one, but that's exactly where you'll find yourself if you push too hard.
Slips and Falls
If your elderly loved one is hurting themselves with an increasing frequency, this is a sure sign that they would benefit from increased supervision. You can look for bumps and bruises, but pay careful attention to doctor and emergency room visits. If your loved one is fracturing bones or spraining muscles often, living alone can be extremely dangerous.
Geographic Distance
When your parents or other elderly loved ones are halfway across the country or even world, you may not have another option than to arrange a nursing home facility for their care.
If you're noticing signs that your loved ones are struggling while living alone, it's probably time for a visit. At this point, you can evaluate how they're doing and whether it may be time for assisted living care.
Another option is to move closer to your parents, but this is a major upheaval that not everyone can manage.
How to Choose a Nursing Home
for your Elderly Loved One
Choosing the right nursing home for your elderly loved one can be even more difficult than the decision to find care.
There are so many choices and nursing homes, in general, don't have a great reputation.
You can't always ensure safety at nursing homes, but there are some amazing ones out there.
Here's how to find them.
1. Visit in Person
Nothing can replace an in-person visit, so do not skip this. If you can't make it yourself, send another family member or family friend. While you're there, pay careful attention to the residents. Do they seem happy? Are they having pleasant interactions with the staff? Talk to them. Find out what they think of where they live. Keep in mind that not everyone is going to have a rosy picture, even if the place is perfect. But this will give you a good picture of what's going on behind the scenes. After a few visits, you should have a feel for which residents have a better overall feeling about where they live. This is the best indicator of a great nursing home because it means the staff is caring and attentive.
2. Read Reviews
Reviews will give you another perspective on any nursing home. Read all reviews, good and bad, but don't get too caught up in any of the bad stuff unless it's a clear pattern. Anyone can make an accusation, and that doesn't make it true, but if a few people are saying the same things, that accusation may have some weight.
3. Look for Amenities
Amenities aren't the most important factor, but they can help keep your loved one active and happy, so they do matter. Look for things like organized game times, dance classes and shows. This indicates that the owner cares about the happiness of its residents – and that's usually a great sign.
If your loved one does need nursing home care, understand that it's probably the best decision for everyone involved. And there are some amazing nursing homes out there. Just do your homework in advance, and you can rest easy knowing your loved one is in good hands.
Thank You to Our Guest Blog Writer:
Matthew Willens
Head Attorney, Willens Law Office
Chicago, IL

Eldercare is one of the fastest growing industries and the number of people who use nursing home facilities is dramatically increasing. Unfortunately, according to the Government Accountability Office that oversees nursing home complaints, from 2005 to 2014 the number of nursing home complaints have increased. Some examples of elder abuse are physical abuse, neglect, financial abuse, abandonment, isolation, abduction, or other treatment resulting in harm, pain or mental suffering to an elder.

Our law office has created a Guide to Ensuring Safety at Nursing Homes, which could be a useful resource for you.
Here's a link to the guide: https://www.willenslaw.com/guide-to-ensuring-safety-at-nursing-homes/
- - - - - - - - - - - - - - - - - - - - - - - - - - - - - - - - - - - - - - - - - - - - - - - - - - - - - - - - - - - - - - - - - - - - - - -
Alternatives for Seniors
Alternatives for Seniors is a print and online directory that specifically caters
to the housing and personal care concerns of senior citizens and their families.
When the time comes to find Senior Housing for yourself or a loved one, turn to Alternatives for Seniors.
We offer FREE personalized assistance in finding the best senior housing option for you or your loved one.
A place that matches your interests, needs and offers the amenties that best suit you –– one that is conveniently located near your loved ones.
Call our Senior Advisors at (888) WE-ASSIST (888-932-7747).
If you are not ready to talk to an Advisor, visit the Alternatives for Seniors website to begin searching for the perfect home.
Housing options include: Senior Apartments, Independent Living, Assisted Living, Memory Care and Nursing/Rehab Centers or explore your options
such as Adult Day Centers or in-home assitance like Home Care and Hospice.
Also, be sure to join our Facebook community and follow us on Twitter and Pinterest.