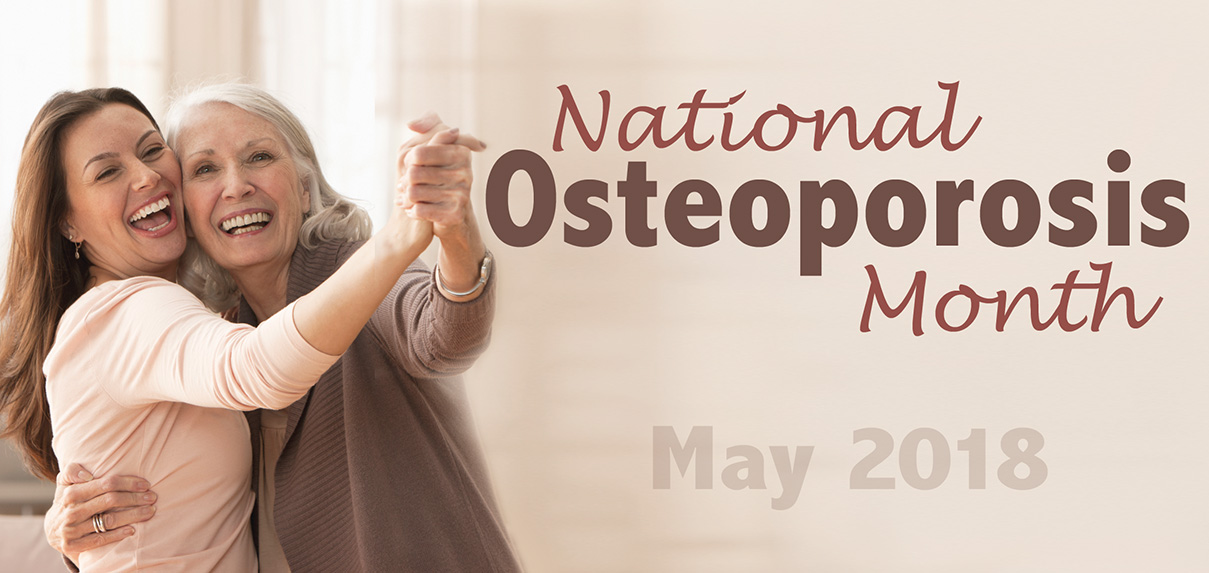 National Osteoporosis Month
Every year, millions of Americans get diagnosed with osteoporosis, a condition involving bone matter degeneration. It's painful and can lead to increased risk of fractures. The good news is that this condition can be mitigated in part with lifestyle changes beginning earlier in life. This post is going to break down how to be proactive in reducing your osteoporosis risk.
Don't Eat Too Much Sodium
Among other problems with a high-sodium diet, it causes calcium loss throughout the body. The DASH Diet was developed by the government as a guideline for reducing heart disease risk. It has the added benefit of protecting bones. If you follow this diet you can reduce your risk for both heart disease and osteoporosis, so why not try it?
The DASH Diet recommends a whole-foods approach to eating, with fresh fruits and vegetables making up the majority of your food intake. Low-fat dairy, whole grains, and lean meats round out the meals. Make sure to track the amount of sodium you add to your meals when cooking. Many people add far more than they realize. The sodium used can be tracked with a food scale. Measure the salt container before and after to assess how much sodium you used in the meal.
Avoid Medications That Cause Bone Loss
Many people don't know this, but certain prescription medications actually damage bone tissue. Even many doctors are aware of this unfortunate fact. Since the elderly population is the most at risk for osteoporosis, they should be especially diligent in researching medications they're prescribed to ensure they don't cause bone loss. Invokana, a type-2 diabetes medication, has been associated with numerous adverse side effects including a higher risk of bone fractures and lower body amputations compared with diabetes patients not taking the drug.
While Invokana is an example of one specific medication associated with osteoporosis risk, corticosteroids are an entire class of medications to watch out for. Due to their steroidal composition, they can cause high blood pressure, osteoporosis and other harmful conditions. It's best to avoid corticosteroids unless they are absolutely necessary to reduce pain and you've exhausted all other options.
Consider Estrogen Therapy
80% of those diagnosed with osteoporosis are women. Since women tend to have smaller bones than men, they're at higher risk for the disease. Estrogen actually protects the bones, so for women in menopause it can be worthwhile to take estrogen to reduce osteoporosis risk. Menopause causes estrogen levels to drop severely, which is why artificial supplementation is suggested. This type of therapy has the positive added side effect of reducing menopausal symptoms which can be uncomfortable.
Osteoporosis is a painful and unfortunate condition, but with simple planning earlier in life it can be avoided in many cases. This National Osteoporosis Month, take the time to talk with your family and loved ones (especially those over 50), about how to safely reduce their risk for this condition without the need for prescription medications. The changes you make to reduce your osteoporosis risk will improve your health in general, so there's no reason to not start today.
Thank You to Our Guest Blog Writer:
- - - - - - - - - - - - - - - - - - - - - - - - - - - - - - - - - - - - - - - - - - - - - - - - - - - - - - - - - - - - - - - - - - - - - - -
Alternatives for Seniors is a print and online directory that specifically caters
to the housing and personal care concerns of senior citizens and their families.
When the time comes to find Senior Housing for yourself or a loved one, turn to Alternatives for Seniors. We offer FREE personalized assistance in finding the best senior housing option for you or your loved one. A place that matches your interests, needs and offers the amenties that best suit you –– one that is conveniently located near your loved ones.
Call our Senior Advisors at (888) WE-ASSIST (888-932-7747).
If you are not ready to talk to an Advisor, visit the Alternatives for Seniors website to begin searching for the perfect home. Housing options include: Senior Apartments, Independent Living, Assisted Living, Memory Care and Nursing/Rehab Centers or explore your options such as Adult Day Centers or in-home assitance like Home Care and Hospice.
Also, be sure to join our Facebook community and follow us on Twitter and Pinterest.
The information expressed in this article is the opinion of the author and is provided as a reference for our readers. As with any medical advice, please speak to your physician before begining any new medication, food, exercise or anything that may affect your health. Alternatives for Seniors also suggests additional research for any topic mentioned. The information expressed in our blogs is written by the author unless specified as an Alternatives for Seniors article and may or may not reflect the opinions Alternatives for Seniors.