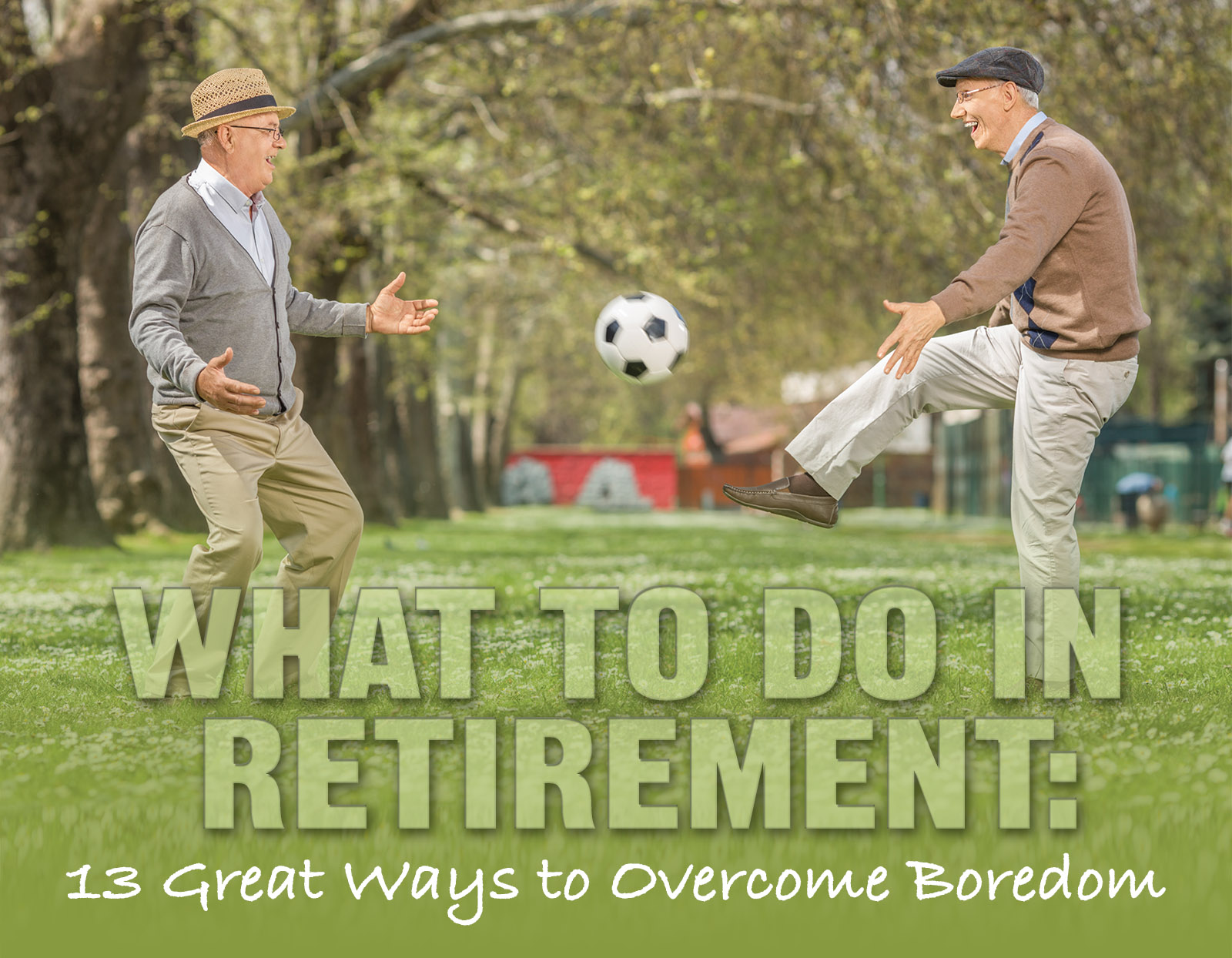 What to Do in Retirement:
13 Great Ways to Overcome Boredom
You have completed the hard part - worked for the better part of your life to provide for your family, lived a disciplined life, and saved up for retirement! Retirement is a great time to relax and unwind after working for all those years. However, many people tend to find themselves without a purpose or a direction during their retirement. This can, in turn, lead to depression, anxiety and boredom. After all, you have all this time, but you simply do not know what to do.
Have you been feeling this way too? If yes, then you have come to the right place. There are many fulfilling activities you can do during your retirement, which will improve your quality of life and keep you engaged. This way, you can feel productive and combat the boredom and depression that can creep up when you do not have anything to do. Keep reading to know more.
Cultivate Your Hobbies
It can be difficult to focus on your hobbies when you are working full-time and have a family to support. Well, now that you are retired, you do not have any of those to worry about. Now is the perfect time to delve into your hobbies and explore them to the fullest.
Have you always had a passion for woodworking? Gather the necessary tools you need and look up a few tutorials online, and begin your journey. Have you always been interested in oil painting? Why not pick up the brush and give it a try again?
Take a Class to Learn a New Skill
Many colleges and universities have lifelong learning programs for seniors, where you pay very little and can learn courses of your choice. Look for classes at your local community college or high school. You can take this opportunity to challenge yourself by learning a completely new skill and see how sharp your mind is at retaining information even during your senior years.
Experiment with a Cookbook
Whether you are good at cooking or not, would it not be fun to go through a cookbook and try every recipe mentioned there? It would even be more fun if these were recipes you are unfamiliar with, so you can boast of learning a new life skill. Surprise your family with lunch one day, dinner on another, and breakfast at another time and watch them (hopefully) compliment you!
Finish Your Book Bucket List
Do you have a book bucket list that you have been meaning to get to? Well, what better time to get to it than during your retirement? You can read at peace without the tension of work deadlines or family activities. Go ahead, gather all those books you have been meaning to finish and immerse yourself in literature.
Write a Memoir
Retirement is the perfect time to start working on your memoir. Sure, it may seem too high and mighty for you to write a memoir, but consider this- years later, when your grandchildren and great-grandchildren read about your life, they will be fascinated by your experiences and learn about the world from you. It is a great way to leave something behind for the generations to come.
Join a Club
One of the biggest hits that come with retirement is the lack of an active social life. As a result, you may end up feeling lonely, and eventually succumb to boredom. Instead, why not try to join a club near your place? You could go for a stroll in the evenings, meet up with a few folks and play some exciting games, like a Solitaire card game. If you do not have a club near you, you could join one online through Facebook and reconnect with old friends and acquaintances.
Learn a New Language
While it is true that our capacity to learn and process information diminishes as we age, it certainly does not mean we should never try learning new things, does it? What better time to learn a new language than now? You have all the time in the world, there is nothing else to demand your attention, it would be a fun way to meet more people and learn about a different culture.
Engage in a Weekly Activity
It is very important to keep your body physically fit during your senior years. This is why it is recommended that you take up a weekly fitness activity with your peer group. For example, you could make it a routine to go to the golf course with your neighbours every weekend and get some much-needed exercise.
Many local communities and recreation centers also offer exercise classes geared towards seniors such as chair exercises, easy flow yoga and water aerobics. Some even offer discounted classes or memberships to seniors in the community. You will be able to exercise and meet new people in your community with similar interests.
Take Time to Travel
We all want to see the world, but who has the time? Wait a minute, you do! Why not fulfil your dreams of going around the world during your retirement? After all, you have saved up quite a bit of money and you don't have anything else requiring your attention. So, take this time to travel to your favorite destinations and check off places from your travel bucket list.
Do Volunteer Work
Volunteering at your local childcare centre, animal rescue or homeless shelter can be a great opportunity for you to do something for the community. This is an extremely rewarding endeavour, and it will give you the satisfaction of knowing that you have done something good for the community.
Start a New Career
Just because you are retired, does not mean you cannot work again! Why not start a small business about something you have always been passionate about? This will not be demanding like a regular full-time job but will keep you engaged and at the same time, help you earn some income.
Become a Mentor
Your experience of the world is something that should be passed on to those who come after you. There are many online and offline mentorship programs available for seniors, where they can choose a mentee and help them in some aspects of their lives. For example, if you have owned your own business, you can help develop entrepreneurship in youngsters.
Engage in Cultural Activities
Another great way to kill boredom and remain engaged is to take part in or organize cultural events in your area. For example, you could help in organizing and taking part in things such as arts and crafts exhibitions, food festivals, music competitions, book readings and so on.
The notion that retirement is only meant for silent contemplation and looking back at your youthful years needs to be squashed. You have all the time in the world, very little responsibility and enough savings. Indulge that child inside of you and have your fill of doing anything that intrigues you. We got your back!
- - - - - - - - - - - - - - - - - - - - - - - - - - - - - - - - - - - - - - - - - - - - - - - - - - - - - - - - - - - - - - - - - - - - - - -
Alternatives for Seniors helps seniors, senior care professionals, and senior living communities nationwide.
Contact us today to find out more! (888) 904-1990
- - - - - - - - - - - - - - - - - - - - - - - - - - - - - - - - - - - - - - - - - - - - - - - - - - - - - - - - - - - - - - - - - - - - - - -
Thank You to Our Guest Blog Writer:
Steven Briggs
Steven Briggs is a cognitive engagement consultant and writes about its connection to a wide variety of aspects such as learning, mental wellness, relaxation, productivity etc.

- - - - - - - - - - - - - - - - - - - - - - - - - - - - - - - - - - - - - - - - - - - - - - - - - - - - - - - - - - - - - - - - - - - - - - -
Alternatives for Seniors
Alternatives for Seniors is a print and online directory that specifically caters
to the senior living and personal care concerns of senior citizens and their families.
When the time comes to find Senior Housing for yourself or a loved one, turn to Alternatives for Seniors.
We offer FREE personalized assistance in finding the best senior housing option for you or your loved one.
A place that matches your interests, needs and offers the amenties that best suit you –– one that is conveniently located near your loved ones.
Call our Senior Advisors at: (888) 904-1990.
If you are not ready to talk to an Advisor, visit the Alternatives for Seniors website to begin searching for the perfect home.
Housing options include: Senior Apartments, Independent Living, Assisted Living, Memory Care and Nursing/Rehab Centers
or explore your options such as Adult Day Centers or in-home assitance like Home Care and Hospice.
Alternatives for Seniors Directories
Request a copy or copies of our print directories here. Or you can view Print Directories online here.
Social Media
Also, be sure to join our Facebook community and follow us on Twitter and Pinterest.