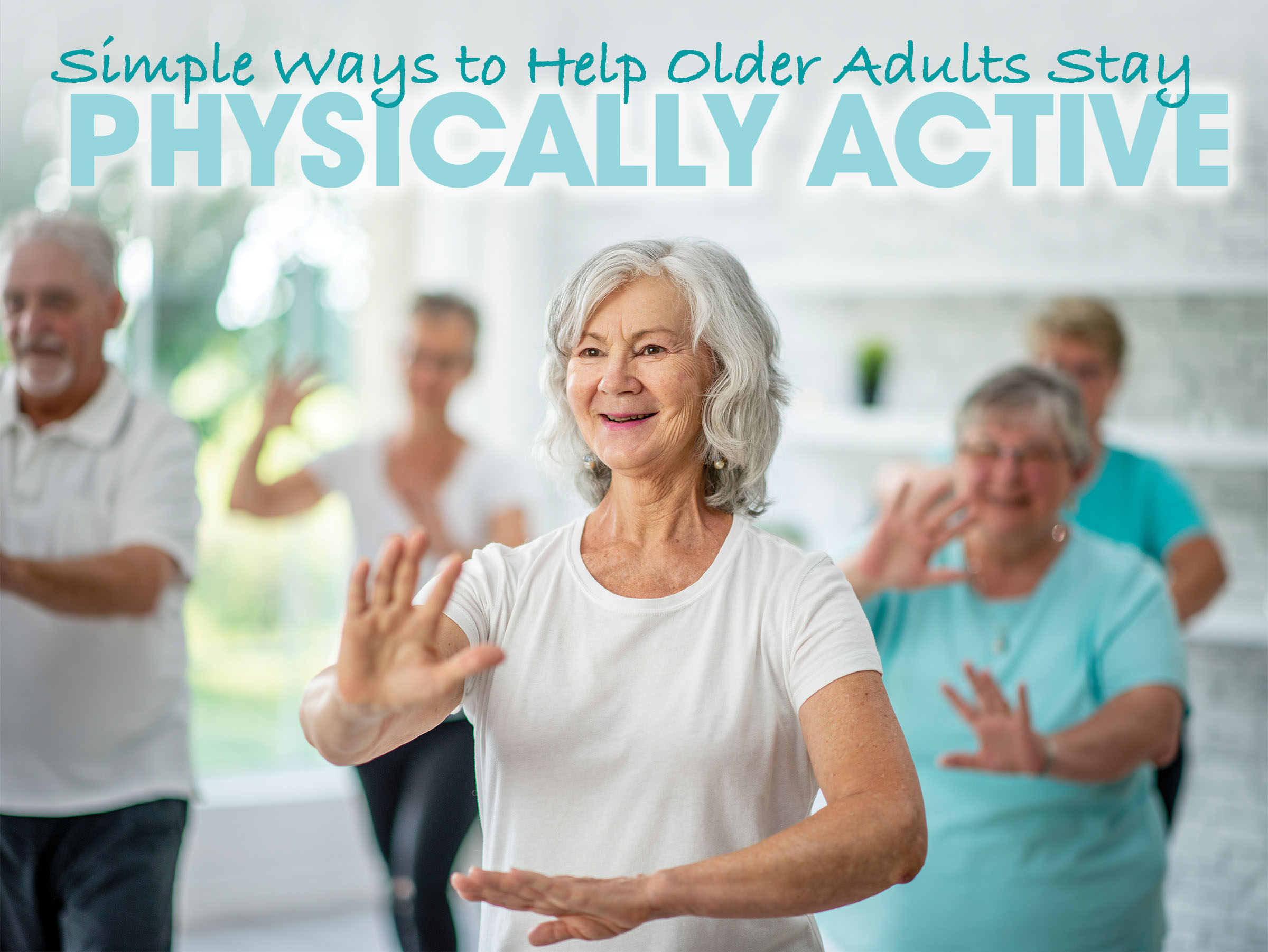 Simple Ways to Help Older Adults Stay Physically Active

Exercise is considered a key component of good health. However, there is this common misconception that older adults need to slow down to prevent accidents and injuries but, nothing could be further from the truth. According to the Centers for Disease Control and Prevention (CDC), staying physically active provides many benefits.

Regular exercise can help maintain healthy bones and boost muscle strength and stamina. More importantly, staying physically active can help reduce the risk of dying from colon cancer, Type 2 diabetes, and heart disease. What's even more impressive? Regular exercise may even help improve memory!

Just like home care for seniors, physical activity can help significantly enhance the quality of life of older adults. Aside from the amazing health benefits staying physically active offers, regular exercise can also preserve their sense of independence. Below are some of the ways you can help your elderly loved ones stay engaged and active:

Walking

While walking is a low-impact exercise, it is considered very beneficial. At least 150 minutes of moderate exercise is recommended each week. Walking at least 30 minutes daily would be an easy way to reach this target. What's even better? Seniors don't need to leave the house just to "go for a walk." A quick and brisk stroll to the grocery or a quick visit to the local social club will also count.

Socialize

One of the best (and most enjoyable) ways to stay active is joining a society or club. Community organizations and special interest groups for the elderly can also help keep them engaged and moving.

Social engagement through a society or club can help stave off depression or loneliness and stimulate the mind as much as the body. Social engagement can also benefit those receiving Alzheimer's or dementia care.

Household Chores

Encouraging seniors to participate in household chores is another great way to keep them active. Those receiving in-home care might have someone to help them with daily tasks like laundry, dusting, and vacuuming.

However, many seniors want to help out with the chores to maintain their sense of independence. If your elderly loved one is interested in gardening, cooking, or baking, you can also help them pursue those hobbies and interests.

Swimming

Swimming is a fun yet gentle way to keep your senior loved ones active. Water aerobics is another low-impact activity they can participate in. Swimming and water aerobics are considered fun ways to help them reach their 150-minute weekly target.

Swimming is also a great way to work the cardiovascular system and keep the muscles strong. This exercise has also been proven to help lower blood pressure and reduce stress. Even a short 15-minute session can already make a difference in the overall health and well-being.

Dancing

Dancing is another great way for seniors to stay physically active. It is also considered one of the most enjoyable! Nowadays, many community groups organize tea dances so older adults can dance to some classic tunes from their time. Regular dance sessions can also give your elderly loved ones an opportunity to exercise and socialize. This helps ensure both their mind and body are stimulated, engaged, and active.

Seated Exercises

While seniors who require 24/7 care can get out of the house less, they can still benefit from some low-level exercise. For those with limited mobility, seated exercises like lifting weighted objects and raising their legs a set number of times can help keep their muscles toned.

There are also yoga positions that can be done while seated. Yoga meditations can also help minimize feelings of depression, anxiety, and stress. It is important to encourage seniors to engage in as much mental and physical activity as they can comfortably do.


Final Thoughts

Many adults aged 65 and above spend an average of 10 hours in a sedentary position. Fortunately, doing at least 150 hours of mild to moderate exercise weekly can already do wonders for their emotional and physical well-being. Moreover, it can help them remain independent longer and enjoy the best quality of life as they age.


- - - - - - - - - - - - - - - - - - - - - - - - - - - - - - - - - - - - - - - - - - - - - - - - - - - - - - - - - -

Thank You to Our Guest Blog:
Sarah Keller, Content Marketing Strategist
A to Z Home Care

About the Author

Sarah Keller is the Content Marketing Strategist of A To Z Home Care, a team of professional home care providers based in Phoenix, Arizona that specializes in long-term care for your loved ones. She enjoys riding horses and camping with her friends and family in her spare time.
- - - - - - - - - - - - - - - - - - - - - - - - - - - - - - - - - - - - - - - - - - - - - - - - - - - - - - - - - -
Alternatives for Seniors
Alternatives for Seniors is a print and online directory that specifically caters
to the housing and personal care concerns of senior citizens and their families.
When the time comes to find Senior Housing for yourself or a loved one, turn to Alternatives for Seniors.
We offer FREE personalized assistance in finding the best senior housing option for you or your loved one.
A place that matches your interests, needs and offers the amenties that best suit you –– one that is conveniently located near your loved ones.
Call our Senior Advisors at (888) 904-1990.
If you are not ready to talk to an Advisor, visit the Alternatives for Seniors website to begin searching for the perfect home.
Housing options include: Senior Apartments, Independent Living, Assisted Living, Memory Care and Nursing/Rehab Centers
or explore your options such as Adult Day Centers or in-home assitance like Home Care and Hospice.
Also, be sure to join our Facebook community and follow us on Twitter and Pinterest.