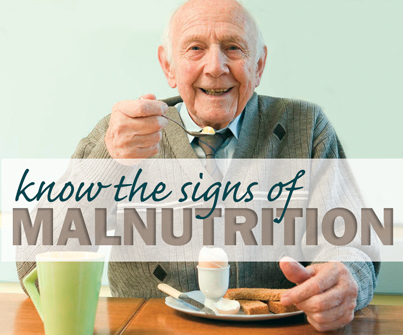 Why Seniors Need To Know The Signs Of Malnutrition:
Eating Well Can Help Keep You Well
For older adults with chronic conditions, proper nutrition is more than just a good idea. It's an essential part of managing many health problems like diabetes, heart disease, high blood pressure, osteoporosis, and more. That's why the National Council on Aging (NCOA) encourages all older adults and their caregivers to take time to learn the warning signs of malnutrition and connect with resources to stay healthy.
"Too often, older adults with chronic conditions can become malnourished because they lose their appetite, or it's difficult for them to shop for and prepare healthy food," said Cora Plass, Senior Director of NCOA's Center for Healthy Aging. "It's important to understand what malnutrition looks like and take steps to get the nourishment our bodies need."
A new survey from The Gerontological Society of America confirms the challenges of good nutrition for older adults and their caregivers. In an online survey of over 1000 people conducted by Harris Interactive in July 2015, 83% of patients and caregivers said they think malnutrition is a significant problem for older adults, yet only 28% of caregivers said they understand malnutrition very well. More than 90% of caregivers said they provide care for an older adult who has experienced a chronic health problem.
Importance of good nutrition for older adults
For seniors living with chronic conditions, malnutrition can result in the loss of muscle and other tissue, which can:
Make it harder to recover from surgery or disease
Make it more difficult to heal wounds
Increase the risk for infection and falls
Decrease strength, and lead to longer hospital stays.
Warning signs of malnutrition in older adults
Alert your health care professional if you (or a senior loved one) have any of the warning signs of poor nutrition:
Eating poorly
Old food in the refrigerator
Chewing and swallowing difficulties
Taking multiple medicines
Unplanned weight loss
Becoming sick often
Slow healing wounds
Bruising or dry, cracked skin
Memory issues
Therapeutic nutrition can help you heal
When you're sick, your body needs extra nutrition as fuel. If you don't have enough fuel, your body might break down the protein in your muscles and use that as fuel. This can leave you feeling weak and less able to fight infection. Therapeutic nutrition provides fuel to help keep your muscles strong and help you recover more quickly.
Your doctor or registered dietitian may recommend using therapeutic nutrition by itself or with other medical care. Therapeutic nutrition works by making sure your body gets the right balance of nutrients needed to fight an ongoing health problem. It cannot prevent health problems, but it may reduce complications, hospital stays, and the need for more expensive medical care. In fact, good nutrition can lead to an up to 50% reduction in avoidable readmissions.
Senior Housing Help is just a Phone Call Away
Alternatives for Seniors is a print and online directory that specifically caters to the housing and personal care concerns of senior citizens and their families. Call our Senior Specialists at (888) WE-ASSIST (888-932-7747) or visit the Alternatives for Seniors website to begin searching for the perfect home for you or your loved ones.
Also, be sure to join our Facebook community and follow us on Twitter and Pinterest.
BLOG Date: Wednesday, December 9, 2015
Writer: Ryan Allen