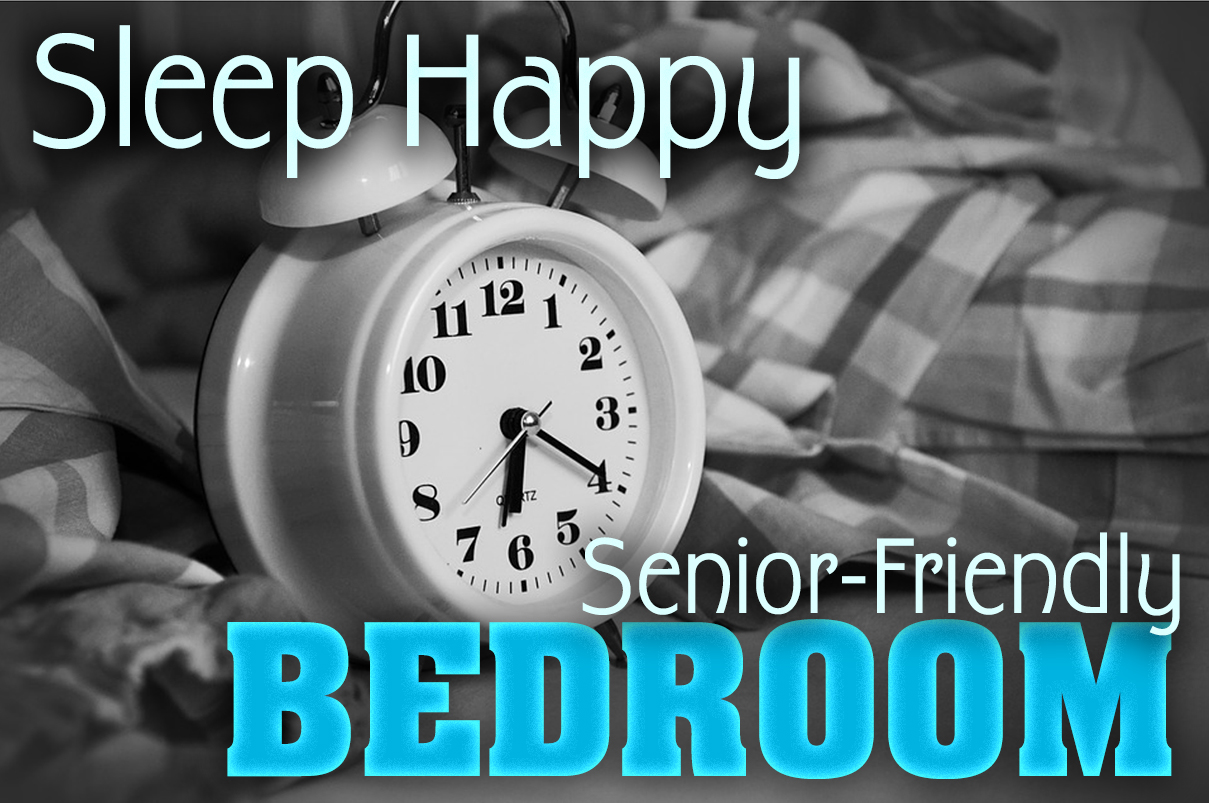 A Sleep-Happy, Senior-Friendly
Bedroom on a Budget
If you're on a fixed income and can't afford expensive bedroom accoutrements, you can still create an environment that will induce sleep at a price that won't keep you up at night. Keep reading for budget-minded tips and ways you can prepare your body get the sleep it needs.
Good sleep starts in the morning…
Positive sleep habits start with positive waking habits. If you know when you want to be up and about for the day, plan to go to bed 7.5 hours to nine hours before your alarm is scheduled for rise and shine. And if you'd rather not use your phone to wake you up in the morning, look into a budget-friendly alarm clock for your bedside table.
...and is affected by your day
Everything you do each day has the potential to affect your night. Try to keep this in mind as you plan activities, eat and exercise. Stress is one of the most common causes of sleeplessness, especially for seniors who may be worried about money or looming health concerns. The Sleep Foundation explains that poor sleep at night can cause a domino effect that can lead to negative reactions to stress the next day. You can take steps to mitigate stress by avoiding situations that cause it. For instance, if your heart races in traffic, avoid driving during rush hour whenever possible.
Bedroom on a budget
Your bedroom environment is also vital to your sleep success. You can give yourself a fighting chance of falling asleep more quickly by paying attention to bedroom ambiance. Start by eliminating sources of hard light. You might, for instance, keep your overhead lights off and add a salt rock lamp to your nightstand. A ceiling or floor fan coupled (look for some online coupons for places such as Lowes to help cut down on the cost) with a small sound machine can block out noises, which is especially important if you live in the city or have family members with a different bedtime schedule. Outfit your bed with affordable cotton sheets and lower your home's temperature so your covers can do their job of warming you up and keeping you snug.
These changes aren't as pricey as they may seem. Follow a few simple shopping tips like taking the time upfront to browse for promotion codes, cashback opportunities and coupons. Often, you can get high quality merchandise for a fraction of the cost of full price items if you research your buying options. You can get many of your needed items at your desired price at big-box retailers: for instance, you can find cash back options at Target, Walmart, or Amazon, and a little more digging will reveal coupon codes and in-stores offers at these retailers as well. By taking a little extra time upfront, you'll save even more.
Mattress matters
For many seniors, the reason sleep remains elusive is because of physical aches and pains. Your mattress can mean the difference between waking up refreshed and tossing and turning in pain the entire night. According to Mattress Advisor, "The best mattresses for seniors have sufficient support to maintain neutral spine alignment, enough contouring to relieve pressure points (think heels, hips, shoulders), and some means for regulating body temperature." The site also highlights the science behind the different types of mattresses and which styles are best according to your sleeping positions.
When to talk to your doctor
There are many reasons sleep can get harder with age. Stress, hormones, a change in living condition and other outside factors all play a part. However, when you can't sleep for months on end or when sleep deprivation interferes with your daily life, it's time to talk to your doctor. Sometimes, issues with sleep are annoying but not dangerous. Restless leg syndrome (RLS) and periodic limb movement of sleep (PLMS) are each issues that can keep you up at night but, when controlled, pose no long-term threat. However, sleep apnea and other sleep-related breathing disorders can shave years off your life and ruin the quality of those you have left.
Sleep is important for people of all ages, but according to Psych Central, may be even more so for those who have left youth behind. It is believed that deep restful sleep can improve your quality of life and non-pharmaceutical remedies such as creating a comfortable sleep environment will provide the best type of sleep: natural.
Thank You to Our Guest Blog Writer:
Karen Weeks
elderwellness.net
karen@elderwellness.net
Image via Pixabay
- - - - - - - - - - - - - - - - - - - - - - - - - - - - - - - - - - - - - - - - - - - - - - - - - - - - - - - - - - - - - - - - - - - - - - -
Alternatives for Seniors is a print and online directory that specifically caters
to the housing and personal care concerns of senior citizens and their families.
When the time comes to find Senior Housing for yourself or a loved one, turn to Alternatives for Seniors. We offer FREE personalized assistance in finding the best senior housing option for you or your loved one. A place that matches your interests, needs and offers the amenties that best suit you –– one that is conveniently located near your loved ones.
Call our Senior Advisors at (888) WE-ASSIST (888-932-7747).
If you are not ready to talk to an Advisor, visit the Alternatives for Seniors website to begin searching for the perfect home. Housing options include: Senior Apartments, Independent Living, Assisted Living, Memory Care and Nursing/Rehab Centers or explore your options such as Adult Day Centers or in-home assitance like Home Care and Hospice.
Also, be sure to join our Facebook community and follow us on Twitter and Pinterest.