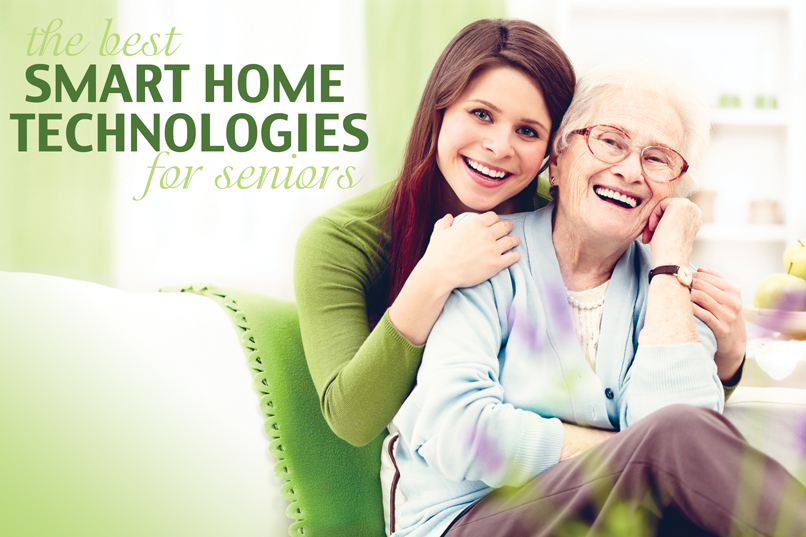 Cutting-Edge Technology Helps Seniors Age in Place
Seniors comprise the fastest-growing age group in the United States and the vast majority of seniors value their ability to live independently by aging in place. Cutting-edge technologies have been developed to ensure seniors can enjoy fulfilling, independent lives on their own, with their families, in living communities and in care communities. In particular, smart home technologies help seniors accomplish their daily routines while promoting safety, convenience and, above all, independence.
Here are some of the top tech items that offer indispensable services to seniors.
Environmental Controls:
Environmental control systems, simply put, keep you comfortable and healthy while saving you money on utility bills. These systems include control panels in main living areas with easily visible methods of setting the temperature and humidity, along with options to control settings by speaking or using a remote control. Sensors are also located in several places to keep each room at the user's preferred conditions. Window sensors can even alert users if they have left a window open while the heater or air conditioner is running or if an open window is letting in moisture that could create a slip and fall hazard on tile or linoleum.


Visual Doorbell:
Safety and social interactions are musts for seniors aging in place and smart doorbells increase home security and communication. Unlike conventional doorbells that provide an audio tone and require a resident to walk to the door to see who is there, a smart doorbell can be integrated with lighting. This option provides seniors who have difficulties hearing with a sight-based signal that they have a visitor. Then, the user can use the doorbell camera to identify who is there without needing to open the door. Microphones can also boost convenience and communication by letting the user speak with their visitor as well.


Smart TVs:
Smart TVs offer numerous options for convenience and safety. Seniors who are hard of hearing can use integrated, wireless headphone systems to allow them to hear the television in comfort. These systems let the user adjust the sound by changing the clarity and volume in its compatible headphones, all without turning up the television's main volume which can lead to hearing damage. Other Smart TV options include sensors that can turn televisions on and off when a resident enters or exits the room, saving on power bills and letting mobility-challenged seniors operate their TV without having to walk over to it or find a remote control.


Bed Sensors:
Bed sensors can help promote better health for seniors. These sensors come in several forms that are embedded into the mattress or a comfortable mat that can be safely attached over the mattress. Seniors, caretakers and health care providers can utilize information from sensors that can record the sleeper's heart and respiration rates, the amount of movement as they sleep and how frequently they need to get out of bed. This information can be important for diagnosing and treating sleep disorders, apnea and other conditions.


Digital Medication Dispensers:
Aging in place can require seniors to remember to take a range of medications at specific times to stay healthy. Digital medication dispensers provide several services, including programmable automated alerts that remind the user which medication to take and at what dosage. Current dispensers have room to fit 15 different medications, with up to a three-month supply of each. When the senior needs to refill their prescription or see their provider, digital medication dispensers can email or send phone text messages to the individual user and any care providers who may be assisting them.


Household and Safety Sensors:
Newer sensors are being developed to allow seniors to live even more safely in smart homes. These devices include motion and pressure sensors that can detect falls on stairs, in bathrooms and other areas where accidents are common, in order to alert emergency services. Motion sensors and voice controls can also be integrated with household lighting to improve security, reduce expenses on lighting unoccupied rooms, and prevent tripping over objects in dark rooms.
Aging in place doesn't have to be a challenge for seniors or their caretakers - not when the previous technology mentioned and a variety of others exist. Be sure to make a "smart" decision and take advantage of this emerging tech in order to make life for seniors easier in the comfort of their own home.
- - - - - - - - - - - - - - - - - - - - - - - - - - - - - - - - - - - -
Alternatives for Seniors is a print and online directory that specifically caters to the housing and personal care concerns of senior citizens and their families. Call our Senior Specialists at (888) WE-ASSIST (888-932-7747) or visit the Alternatives for Seniors website to begin searching for the perfect home for you or your loved ones.
Also, be sure to join our Facebook community and follow us on Twitter and Pinterest.
- - - - - - - - - - - - - - - - - - - - - - - - - - - - - - - - - - - -
Thank You to Our Guest Blog Writer:
Maricel Tabalba
Maricel Tabalba is a freelance writer who enjoys learning about and researching the latest gadgets, smart home tech and green, sustainable tips. She earned her Bachelor of Arts in English with a minor in Communication from the University of Illinois at Chicago.