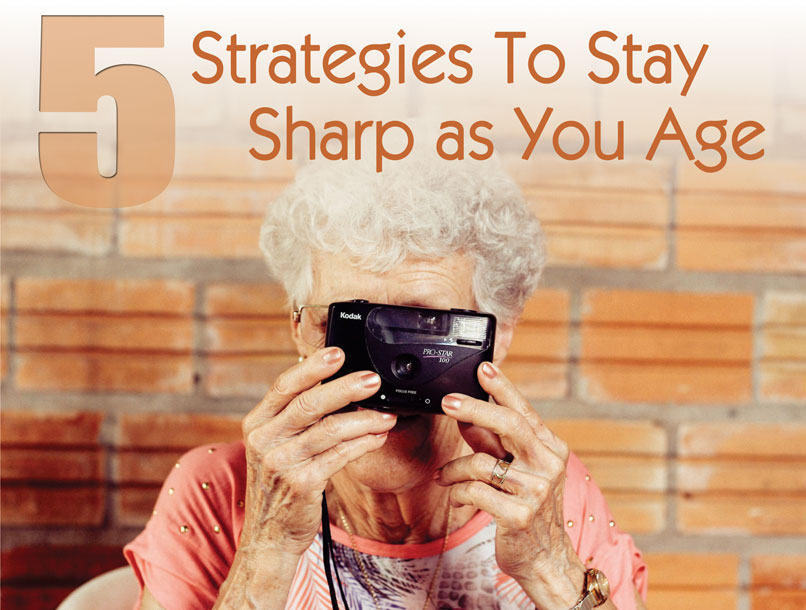 Most adults nearing their twilight years have no shortage of worries. From pensions to driver's licenses to fall prevention, there's a lot to account for when you reach your senior years. One thing many adults forget to consider when they're approaching retirement age is brain health. Declining cognitive function has an enormous impact on seniors' quality of life, but rarely is maintaining a sharp mind a priority in retirement planning. Here are five ways you can work to protect your mind in the later years.
Get Into Games
Games like bingo and bridge have long been popular among senior citizens, and they're a great way for the elderly to stay connected with friends and challenge their brains. However, they're not the only games that seniors can get into. Puzzles let seniors keep their brains active even when they're alone, while modern board games can keep their social lives varied and exciting while also putting their memory to work learning new rule sets.
Video games are surprisingly popular among the aging, with about one third of senior citizens in one study enjoying depression-fighting, ability-boosting video games at least once a week. Kinetic video games like those offered by the Wii let seniors work on their balance and physical fitness, while cooperative online games can fight social isolation from the comfort of home.
Head to Church
Weekly church attendance has been linked to a bevy of health benefits for the aging, from increased cancer survival rates to decreased risk of depression. Church is an important social outlet for senior citizens, who can easily end up facing social isolation after leaving the careers and child rearing they've dedicated decades to. And considering that an active social life is a key element of fighting off Alzheimer's and dementia in late life, having a trusted place to meet with friends is nothing to scoff at. Memorizing scripture, reciting hymns, and discussing doctrine can also protect an aging adult's cognitive function and promote an optimistic outlook.
Stay Active
Exercise is an important component of maintaining brain health throughout your life, and the importance of physical activity only increases as you age. Exercise has been shown to increase brain volume in adults over 60, stimulate growth in the brain's memory center, and reduce the cognition-destroying effects of stress.
Seniors who are wary of joining a gym can stay sharp by starting a walking group, getting involved in a senior-centric fitness classes like SilverSneakers, or taking up a gentle exercise routine like tai chi. Seniors with mobility or balance limitations can find seated exercise classes at churches and community centers in their city. Seniors living on a fixed income can pick up a dog walking gig as a way to get outside and get active, make friends, and even earn a little extra money on the side.
Never Stop Tinkering
Continuous learning throughout the senior years can help protect the brain against memory disorders and other forms of cognitive decline. Every time a senior picks up a new hobby, their brain is given a workout in the form of absorbing and retaining new information. It can also help elderly individuals retain fine motor ability and everyday functioning by keeping them moving through hobbies like painting, woodworking, knitting, or gardening.
Become a High-Tech Senior
Social isolation and loneliness are one of the biggest threats to senior mental health, but decreasing mobility can make it challenging for the elderly to get out with friends. By learning how to use social media or how to create a website, seniors have an easy way to stay connected with friends and family or explore a new passion. Single seniors can even get on over-50 dating sites to meet potential companions. However, they should be wary of romance scams that target the elderly.
Whether your retirement plan is retreating to a condo on the beach or staying close to home, make a point to incorporate activities for brain health into your daily life. Your mind and body will thank you with a longer, healthier, more vibrant senior years.
- - - - - - - - - - - - - - - - - - - - - - - - - - - - - - - - - -
Senior Housing Communities also offer a vast variety of activities to help seniors stay active, healthy, social and alert. For help finding a senior housing community that best fits you or your loved ones needs and personal preferences, call one of our Call our Senior Specialists at (888) WE-ASSIST (888-932-7747) or visit the Alternatives for Seniors website to begin searching for the perfect home. Housing options include: Senior Apartments, Independent Living, Assisted Living, Memory Care and Nursing/Rehab Centers. Alternatives for Seniors is a print and online directory that specifically caters to the housing and personal care concerns of senior citizens and their families.
Also, be sure to join our Facebook community and follow us on Twitter and Pinterest.
- - - - - - - - - - - - - - - - - - - - - - - - - - - - - - - - - - - -
Thank You to Our Guest Blog Writer:
Jackie Waters
Image via Pixabay