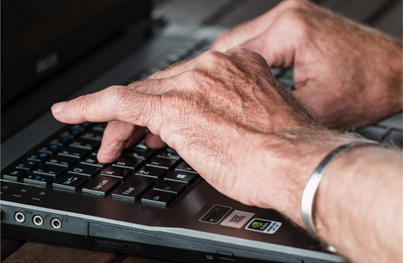 Seniors can Work from Home
Finding a job that's flexible to the needs of a retired senior can be challenging, especially in the current market. But have you ever considered shifting your search closer to home? What about shifting it to your home? Believe it or not, there are endless fulfilling opportunities to work from home. Real estate is a common solution that fits this bill, but here are a few other ideas.
Freelance through UpWork.com
Search and find freelancing jobs in fields like graphic design, copywriting, marketing and legal translation at Upwork.com. Work right from home around your own schedule. Do well, and you may be able to earn more work from a satisfied employer or at the very least, valuable professional contacts.
Be a life coach
If you've got that fire that inspires others, use it! Help others from across the globe achieve their life goals right from your own home by taking advantage of the technology around you. The internet is a great way to reach out (a good first step is starting your own website), and it can break the barriers of state lines, miles of land, and even oceans that separate you from your clients. You can use Skype to make free video calls to give your meetings a more personal touch and keep an online goal tracker that you can each access. With technology on your side, you can be just as effective from afar as you would be with daily personal contact.
Be a travel agent
Most travel plans are made online these days, and there are lots of people who would rather pay someone else to go through the hassle. First, you'll want to look at various certifications for travel agents as well as any possible state registration requirements. Once you've got the paperwork filled out, you can make your home office a hub for planning trips near and far. Make your own hours and adjust your schedule as your needs change. You can even set up an easy payment system via PayPal.
Find remote work by category through SkiptheDrive.com
At SkipTheDrive.com, you can search for remote positions in marketing, engineering, business development and finance, among many others. You can narrow your search to be only part-time or you can explore your full-time options, as well. There are companies from across the country who recognize the advantages of remote positions, so check often to see what becomes available.
Working from home isn't just convenient, it's cost-effective. You save on the costs of transportation, expensive work clothes, and yes, those pesky overpriced business lunches. For a retired senior, it can also mean less strain on the body, more time with family, and an overall more fulfilling life.
- - - - - - - - - - - - - - - - - - - - - - - - - - - - - - - - - - - - - - - - - - - - - - - - - - - - - - - - - - - - - - - - - - - - - - - - - - - - - - - - - - - - - - - - - - - - - - - - - - -
Alternatives for Seniors is a print and online directory that specifically caters to the housing and personal care concerns of senior citizens and their families. Call our Senior Specialists at (888) WE-ASSIST (888-932-7747) or visit the Alternatives for Seniors website to begin searching for the perfect home for you or your loved ones.
Also, be sure to join our Facebook community and follow us on Twitter and Pinterest.
- - - - - - - - - - - - - - - - - - - - - - - - - - - - - - - - - - - -
Thank You to Our Guest Blog Writer:
Jim Vogel
jim@elderaction.org
www.ElderAction.org

BLOG Date: Tuesday, October 18, 2016
Image by StevePB via Pixabay