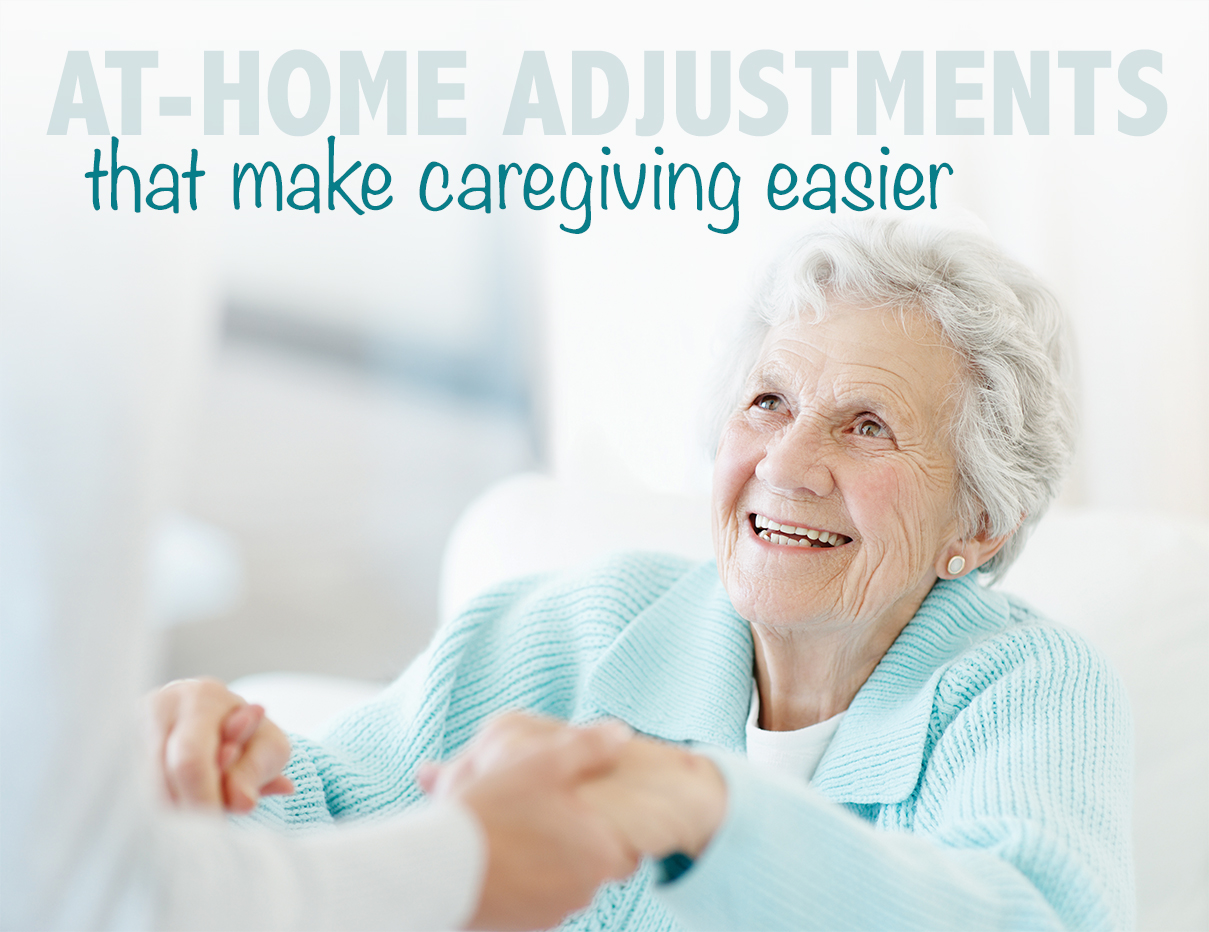 At-Home Adjustments that Make Caregiving Easier
According to AARP, nine out of 10 people say they would stay at home if they had a serious health problem. And many people do: about 85 percent of family caregivers are caring for someone who lives in their own home or who is sharing a home with them.
There are many home adjustments you can make for an easier caregiving experience. Not only will making these adjustments take some of the stress off yourself, but it will help you provide the safest environment for your family. As you begin to make these adjustments, remember that being a caregiver can be very stressful and taxing on an individual. Be sure to take time for self-care and have a plan in place to support a healthy lifestyle. Taking steps to care for yourself will ensure you are able to provide the best care possible to your loved one.
Simple Modifications for Accessibility
When evaluating your home for accessibility modifications, be sure to consider the whole house, inside and out. Here are a few at-home adjustments that are both simple and not time-consuming.
Look at lighting in the home.
Add automatic lights in the hallway and make sure there are light switches accessible at the top and bottom of the stairwells. Replace toggle light switches with easier-to-use rocker panel light switches and add under-cabinet lighting in the kitchen.

Remove Area Rugs as they can lead to trips and falls.

Add Grab Bars in the bathroom and replace toilets with comfort-height toilets—
these make it easier to sit down and get back up.

Wheel Chair Accessible Doorways
Ensure doorways and hallways are wide enough to accommodate a wheelchair.

Opt into home warranty coverage to streamline home maintenance and not worry about spending time and money on repairs or replacements.

Monitors and Alerts can be a big help when someone has dementia. You can place motion sensors in different areas of the home—these will sound an alarm and let you know when someone is not where they're supposed to be.
Additional Safety Adjustments
In addition to making basic safety modifications, there are other safety adjustments that you can make to ensure the caregiver and the senior are as comfortable as possible.
Do you have a porch with stairs?
Install a ramp to make it wheelchair-accessible and reduce trip and fall hazards for those who are still able to walk.

Upgrade showers to a curbless design to eliminate the need to step over anything when entering.

If you have stairs...
Install railings on both sides of the stairwell and consider installing a chair lift to reach rooms on the second floor.

Remove Trip Hazards
Consider removing flooring thresholds to help prevent trips when walking through rooms. If you want to upgrade your floors, remember that low-pile carpeting is a better alternative than thicker, plush carpeting.

Look into hiring home-based services.
Physical, occupational, speech, and music therapy services can often be provided at home. Do your research and see what assistance may be available in your area.

In-Home Services
Some other at-home services that could make caregiving as easy as possible include mobile doctors and home health aides who can help with bathing and meal services.
If these home modifications become too much, and the time comes to transition your loved one into an assisted living facility, view our guide that explains how to help a senior make this transition.
Thank You to Our Guest Blog Writer:
Kay Elizabeth Carter
Writer
- - - - - - - - - - - - - - - - - - - - - - - - - - - - - - - - - - - - - - - - - - - - - - - - - - - - - - - - - - - - - - - - - - - - - - -
Alternatives for Seniors is a print and online directory that specifically caters
to the housing and personal care concerns of senior citizens and their families.
When the time comes to find Senior Housing for yourself or a loved one, turn to Alternatives for Seniors. We offer FREE personalized assistance in finding the best senior housing option for you or your loved one. A place that matches your interests, needs and offers the amenties that best suit you –– one that is conveniently located near your loved ones.
Call our Senior Advisors at (888) WE-ASSIST (888-932-7747).
If you are not ready to talk to an Advisor, visit the Alternatives for Seniors website to begin searching for the perfect home. Housing options include: Senior Apartments, Independent Living, Assisted Living, Memory Care and Nursing/Rehab Centers or explore your options such as Adult Day Centers or in-home assitance like Home Care and Hospice.
Also, be sure to join our Facebook community and follow us on Twitter and Pinterest.