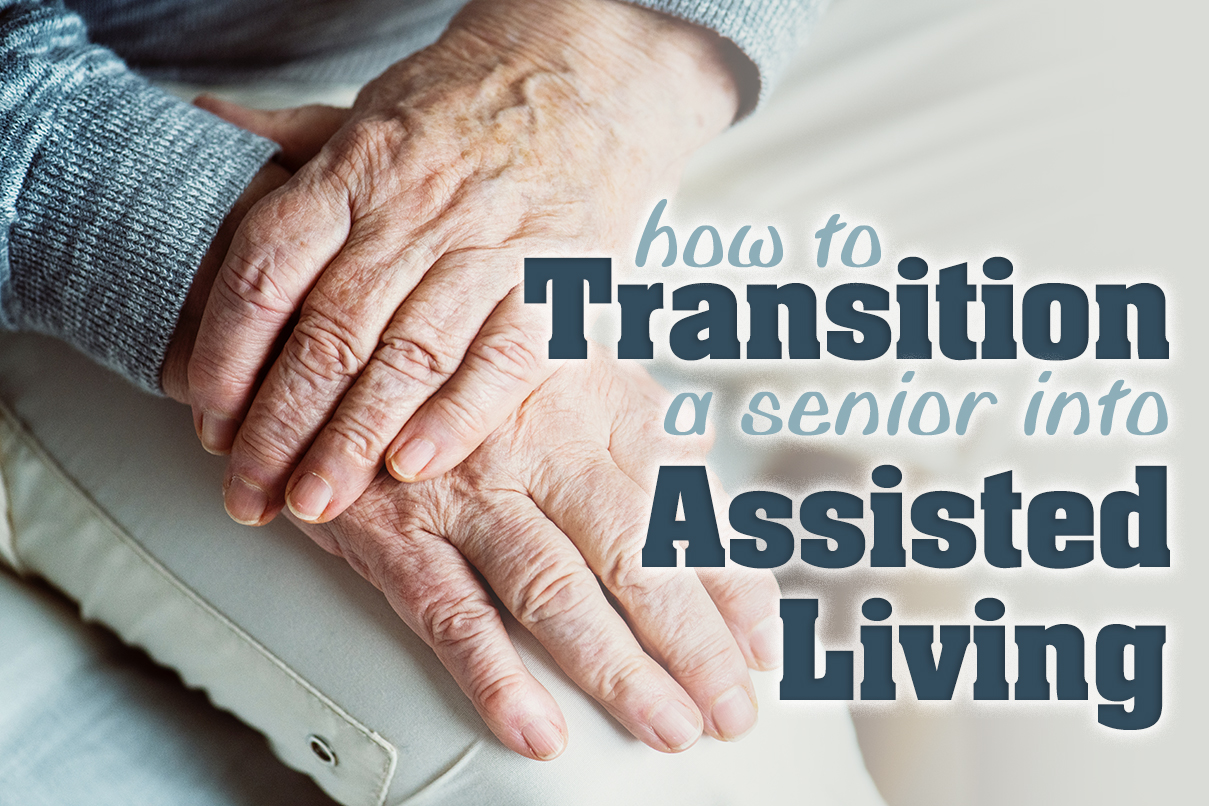 How to Transition a Senior
into Assisted Living
Moving is not always an easy experience. This is especially true if you're attempting to move someone from their own home, or from a family home, into assisted living. This transition is increasingly common in today's society and there are few things that you can do to help make the transition easier for loved ones. Here are five tips to help transition a senior from their home into assisted living.
1. Encourage Independence

For many of us, our instincts are to protect our parents and take care of them completely. That's a reasonable emotion to have, but it might actually be counterproductive when trying to move them into an assisted living facility. Instead of trying to do everything for your parent (or the senior in question), allow them to take care of themselves as much as possible. Encourage their independence while still supporting them from the sidelines and stepping in when necessary.
2. Visit the Facility Beforehand

Instead of just telling the senior where they'll be moving, make the time to take them on a tour of the place. Bring them with you and let them see where they'll be living and the kinds of groups and activities they can take part in. Humans fear the unknown, and that's especially true when the unknown comprises the majority of the foreseeable future. Take that uncertainty out of the equation and enable the senior to picture themselves living in their new space before they move in. Check with the facility to see if they have any kind of transition programs to make the move a little bit easier.
3. Think About Community Activities

If you've ever moved, you probably understand how intimidating adjusting to your new environment and forming relationships can be. When it comes to helping a senior move into assisted living, try to help them become part of the community by encouraging them to get involved in group activities and taking up activities available to them. This will help them feel as though they have a place and a purpose and will ultimately make the transition an easier one while also improving their overall health.
4. Help Seniors Create a Space of Their Own

Part of the struggle that people face when moving into an assisted living facility is the perceived loss of independent, personal space. You can ease these concerns by letting your loved one bring personal belongings into their new space and helping them decorate their room to suit their tastes. You might even consider replicating the way their current living space is set up and decorated. Show them that they can still have their own space where they can enjoy downtime and relax.
5. Ensure Their Home Is in Good Condition

Before transitioning a senior into an assisted living facility, make sure you know what's going to happen to the house they were living in. If you're going to rent the house out, ensure all appliances are in top condition and schedule any repairs that need to be made. If you're going to sell it, work with a real estate agent to get it inspected, make any improvements that will increase the resale value, and stage the house.
These are just a few ways to help your loved one adjust to a transition to Assisted Living or another senior housing facility.
If you need help finding the right Assisted Living community or another senior housing facility, Alternatives for Seniors can help. Our information specialists can help you locate a senior housing option in your area with the amenities, services, and care you desire. With just one phone call to 888-WE-ASSIST, our advisors will find the options that fit your needs and help you schedule tours of the ones you choose all at no cost or obligation. We are here to help you help your loved one. Let us do the work so you have more time for your loved one and yourself.
Thank You to Our Guest Blog Writer:
Kay Elizabeth Carter
Writer
- - - - - - - - - - - - - - - - - - - - - - - - - - - - - - - - - - - - - - - - - - - - - - - - - - - - - - - - - - - - - - - - - - - - - - -
Alternatives for Seniors is a print and online directory that specifically caters
to the housing and personal care concerns of senior citizens and their families.
When the time comes to find Senior Housing for yourself or a loved one, turn to Alternatives for Seniors. We offer FREE personalized assistance in finding the best senior housing option for you or your loved one. A place that matches your interests, needs and offers the amenties that best suit you –– one that is conveniently located near your loved ones.
Call our Senior Advisors at (888) WE-ASSIST (888-932-7747).
If you are not ready to talk to an Advisor, visit the Alternatives for Seniors website to begin searching for the perfect home. Housing options include: Senior Apartments, Independent Living, Assisted Living, Memory Care and Nursing/Rehab Centers or explore your options such as Adult Day Centers or in-home assitance like Home Care and Hospice.
Also, be sure to join our Facebook community and follow us on Twitter and Pinterest.